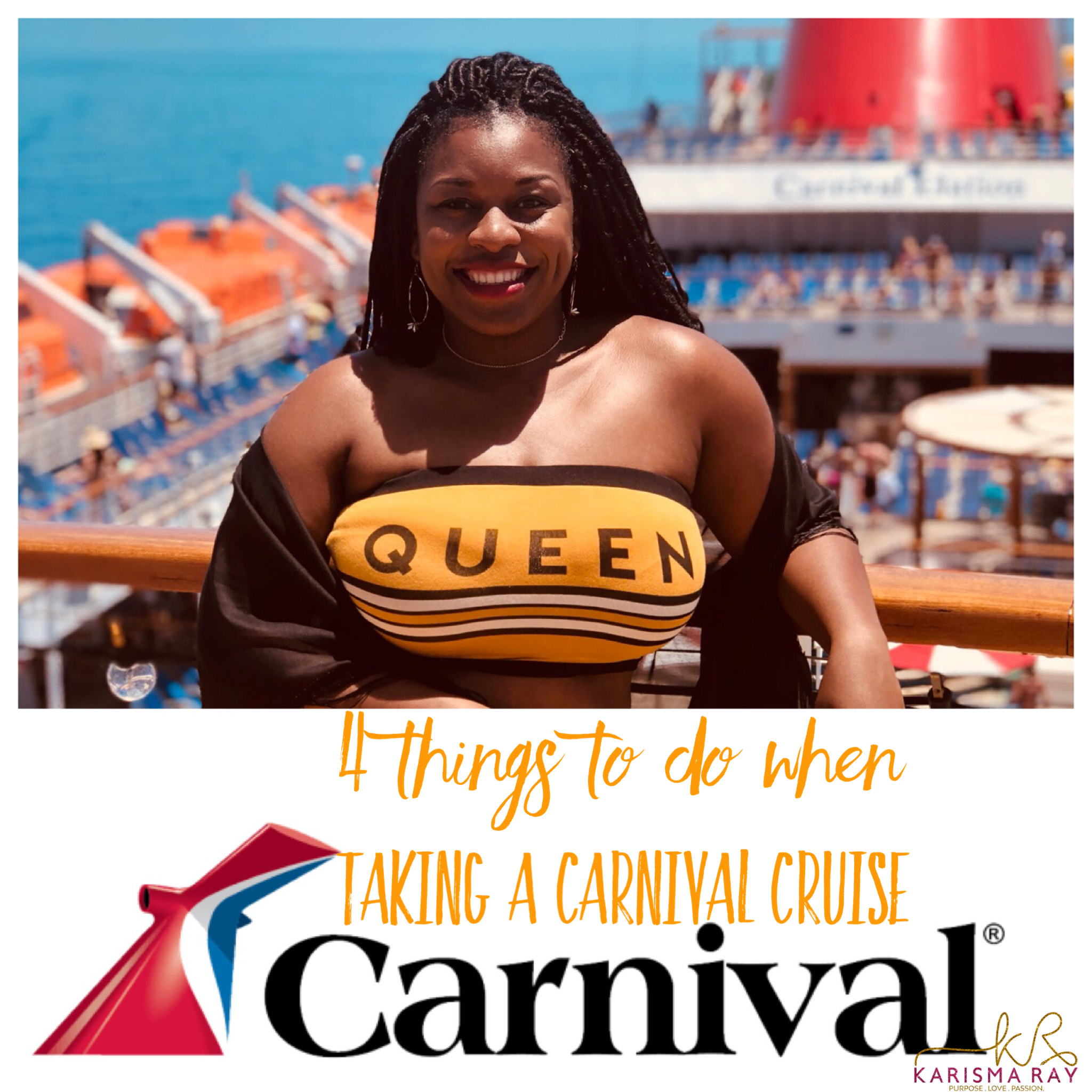 Important Things to Know About a Carnival Cruise
Preparation is Key
My mom is good for making sure things are right and in order, so we had our printed boarding passes, acceptable form of ID, and luggage tags ready at least 2 nights ahead of the cruise. Without proper identification, you will not be allowed to get on or off the boat. It must also be shown before you can even get into the parking for the port so have it on the dash ready.
Once you get in, park, and get luggage out make sure you arrive AS EARLY AS POSSIBLE. If you have someone who is traveling handicap and wheelchair assistance you will be expressed. If not, the lines will be super long trying to get in and go through security to check in. If you can get the elite membership or any upgrade to express you through the line, do so.
Pack Enough
I had a small carry on luggage that was filled with clothing. I packed swimsuits, dresses, shirts, and a variety of mix and match summer items. I rolled up each item tight so it could save space. When I got to my parent's house my mom had a bigger luggage so I transferred all of my things out of the luggage to a bigger one and put more stuff in there.
My mom kept telling me to pack a jacket, and I didn'tbut it was a little chilly at night so make sure you pack at least one sweatsuit or something lounge around in. Also bring shower shoes and house shoes. You will need them both.
In all, I learned that you can never pack too much!
Prepay with Cash (Have Cash)
Make sure you load cash to your card before you get on the ship. You will more than likely have an "on board" credit so be aware of that when you are spending. I had so much fun doing the activities on board but some of them cost extra. The ATMs on board will charge you a crazy withdrawal fee. Ours was $6 per transaction so if you want to take off any extra money just do it all up front so you don'thave to pay to take out for any extra activities that you want to do.
I cannot stress how important this is when you want to do things that cost an extra fee on or off the boat.
Party
There are so many things to do when you get on the cruise. I literallywas handed a raffle for a spa treatment when I got on the cruise. Make sure you have a watch because events do start on time! They have a variety of activities for everyone to enjoy. I actually dragged my younger brother to an art show. My sister came along as well and it was interesting to learn about the various artists.
There were marriage shows, BINGO for money, arcades, casinos, guess the price games, clubs…just about everything to entertain!I cruised on the Carnival Elation out of Jacksonville, Fl and had the chance to get off the boat at the free port and the Nassau locations. If you decide to do this make sure you get off early so you can make it back in time!
Whatever location you and your family decide to travel to, I'm sure you will have a great time on Carnival!