Have you ever spent time alone at an island resort in Georgia?
If your answer is no, The Holiday Inn Resort on Jekyll Island is a gem to discover!
I was able to spend a few days on Jekyll Island for some rest and relaxation and was met with sweet hosted-hospitality. As always, opinions remain my own. I am "Georgia-grown" and I have always appreciated all that it has to offer in landmarks, food, and the southern lifestyle. Living in Atlanta and being on the go can be a lot sometimes and heading to the coast of Georgia is often a breath of fresh air.
Jekyll Island Holiday Inn Resort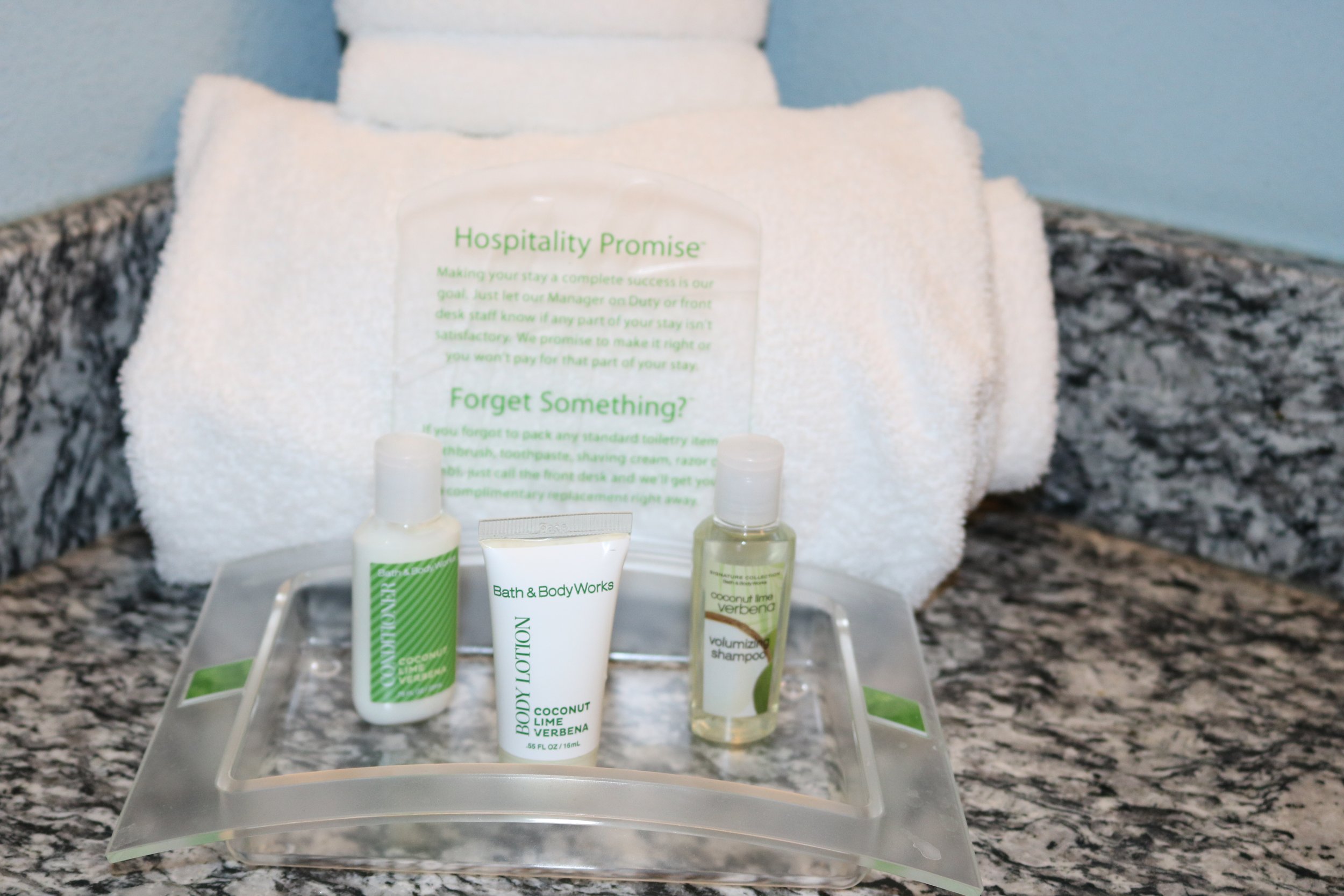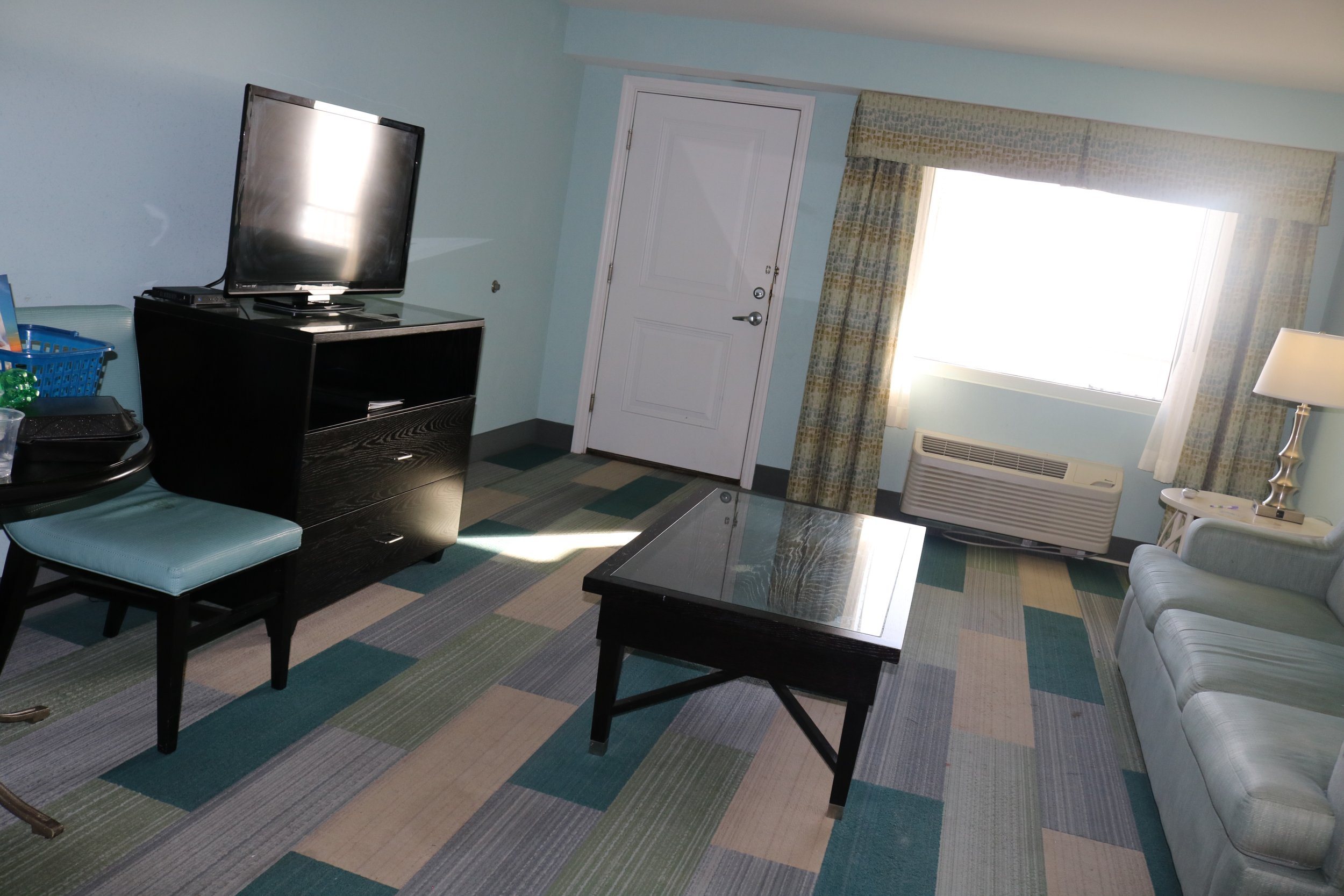 I checked into the resort on Wednesday and checked out on Friday. I stayed for two nights and that was enough for me! But, in a perfect world, I would just, you know… live right there on the island.
I realize that I need ALOT of time for self-reflection and self-discovery because that is where the true magic is: reflecting on who you have been, discovering who you are, and envisioning who you want to be. I cannot stress enough how important it is to be alone at times and live with yourself, and your thoughts, and in your own space. I like to call myself an introverted-extrovert. I love being around people and I love people but sometimes it's very critical that you just get away. The Holiday Inn Resort was perfect for that!
The Beauty of the Island
Jekyll Island is one of the barrier islands of coastal Georgia. Being from Georgia. I'm familiar with the area and the beauty and history that is found there. The resort is situated on a beautiful beach that has priceless views when you wake up in the morning. There is absolutely nothing like waking up to the sunrise. You are reminded that you are a small piece of the puzzle of the world. It is a truly humbling experience to see the beauty of nature and the power that it has to do whatever it wants to do without your help. It teaches that being alone you can accomplish exactly what it is that you were put on this earth to do. It is always within you and you can manifest without permission of any human around you #JustLikeNature. We can learn so much about ourselves by being around nature alone. This resort is the perfect place for that.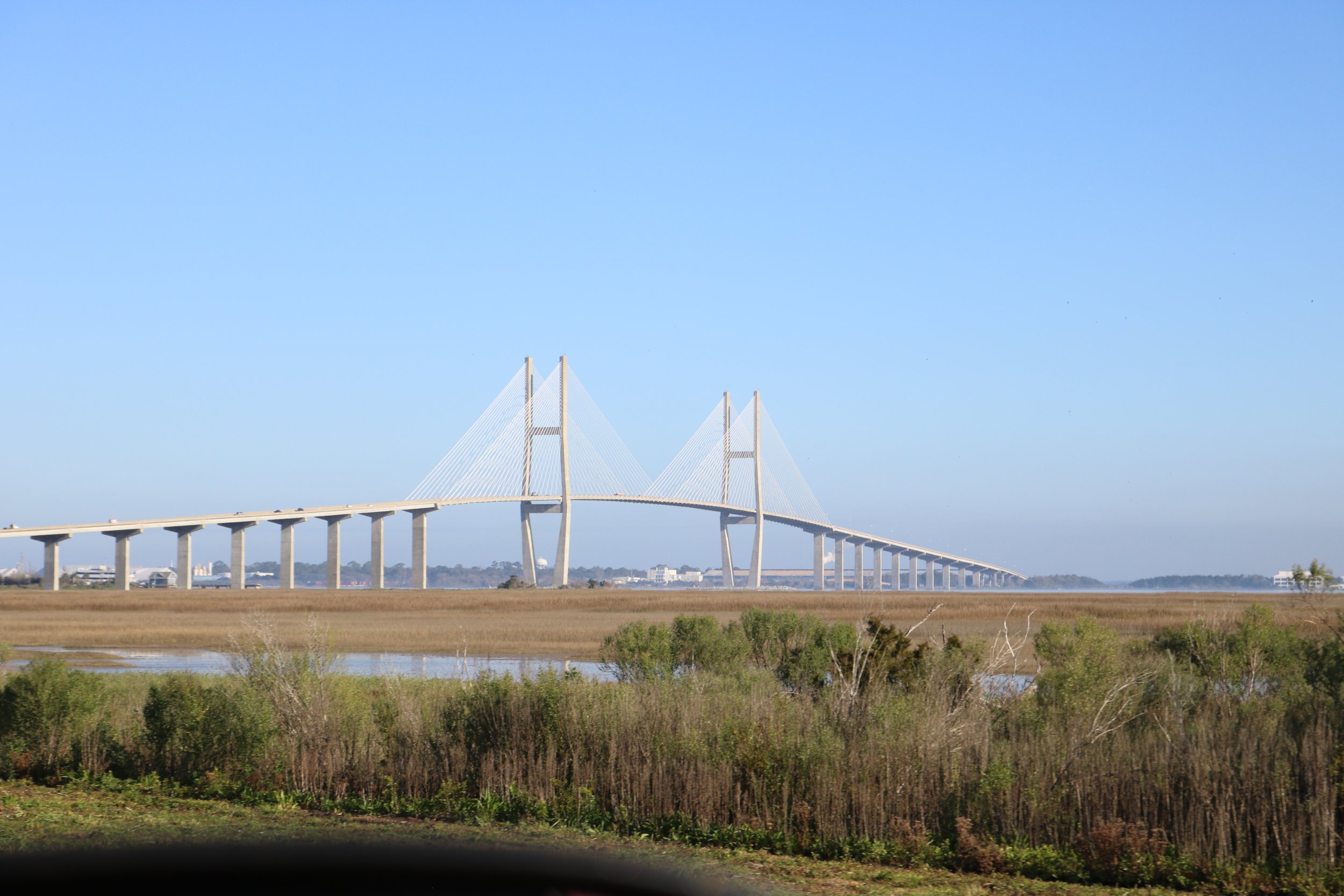 Things to Do
There are not a lot of people who frequent this particular beach that the resort sits on. This can vary due to the time of year, but February has been a great time to get away. I am very grateful for the hospitality that the staff showed me while I was there; after all, southern hospitality is Georgia's middle and last name. At the resort, you'll find relaxed and cozy rooms and suites that face the beach. On day one I checked into the resort around 3 PM and I thought it would be perfect to go outside and lay and meditate on the outside pods. They are so comfortable and I could've stayed there all day laying in looking at the sky and listening to the crashing waves. You have to watch for the tide each day. Parts of the day the water is very high and parts of the day is very low meaning you can actually walk on the beach. You can also check out bikes and ride them along the beach and along the resort. They have a daily rental fee depending on how long you want to have the bike.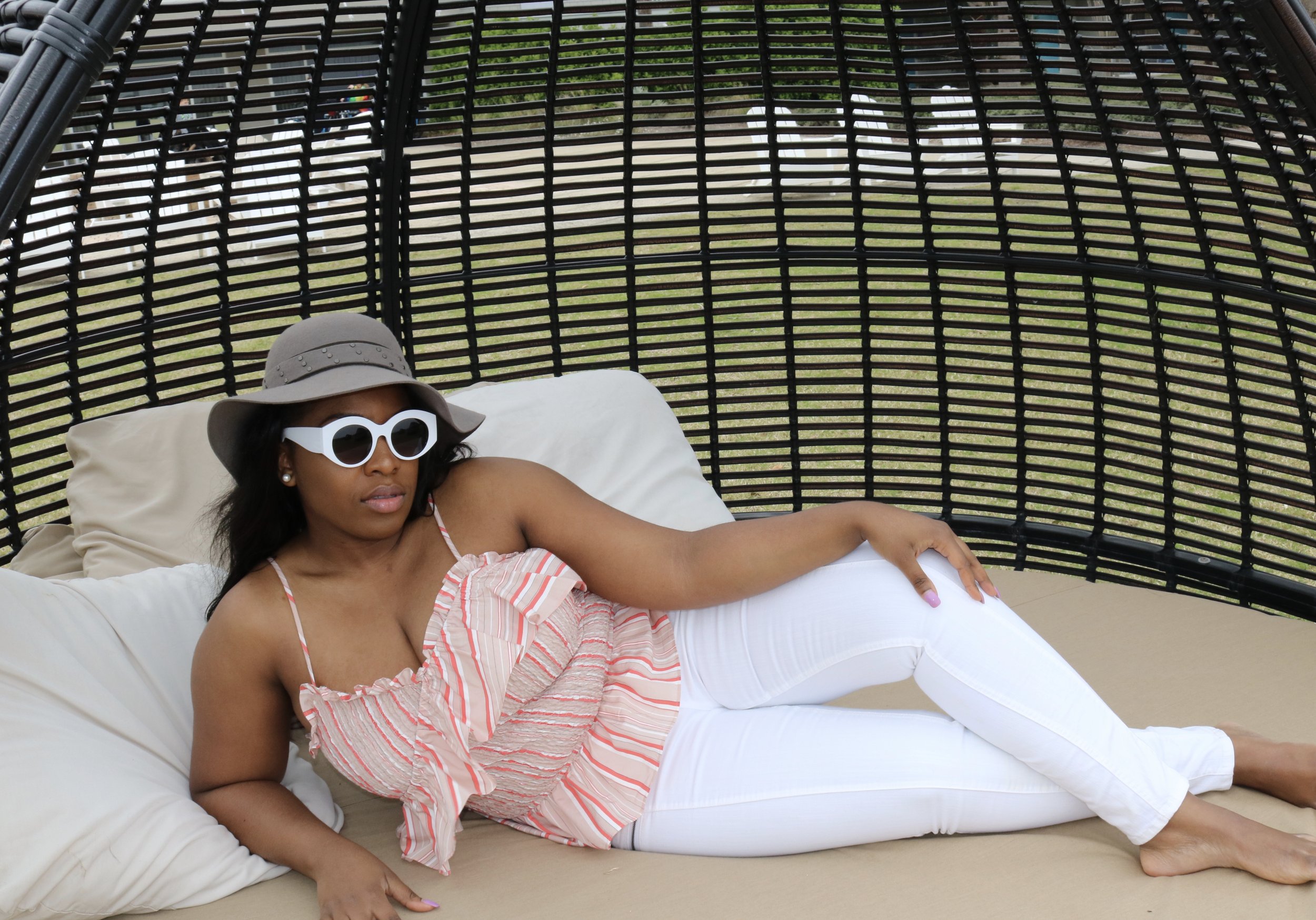 The Food
After relaxing for most of the day I found myself very hungry so I went to The Beach House, which is the restaurant on the grounds of the resort. You will have to leave out of your room and head on down for a short stroll towards the restaurant. As you can see below, it was well worth it! It was so much shrimp and scallops inside of the pasta! Delish! The meals were so delicious, and of course, they served sweet Georgia shrimp and fresh seafood straight out of the ocean. There's nothing like coastal Georgia seafood. Nothing. The Beach House restaurant delivered every time. And I don't know who is measuring the sweet tea and mixing up the concoction but it was simply amazing every time I sipped it. The service was fantastic, and my servers for the two days Rita and Roddy were super kind and attentive! The décor inside of the restaurant also gave you a friendly by the sea feel. The lamps had real oyster shells on them! How cool! After dinner, I was very full and tired of doing nothing, so I spent the rest of the evening on the balcony listening to the waves. And thinking.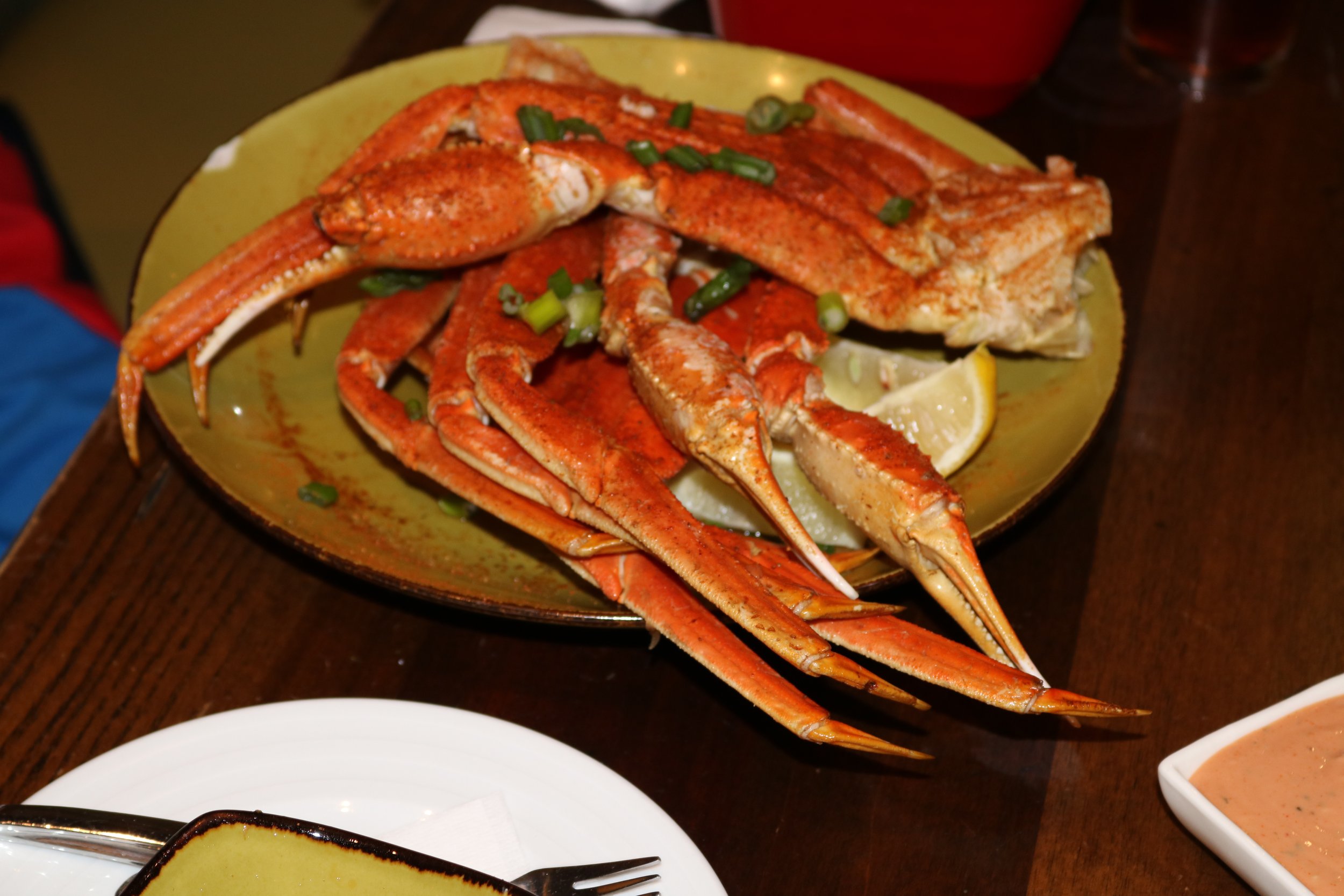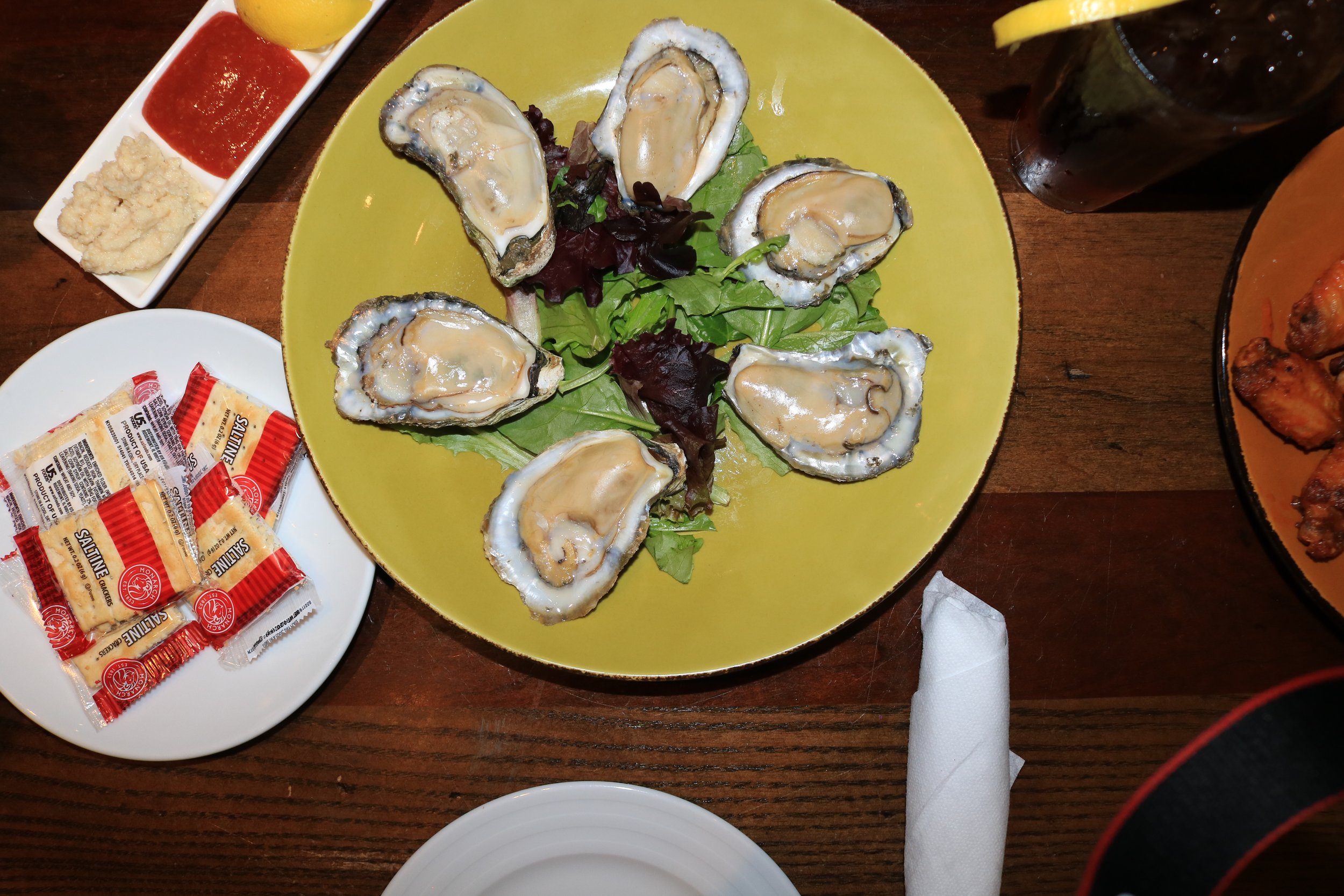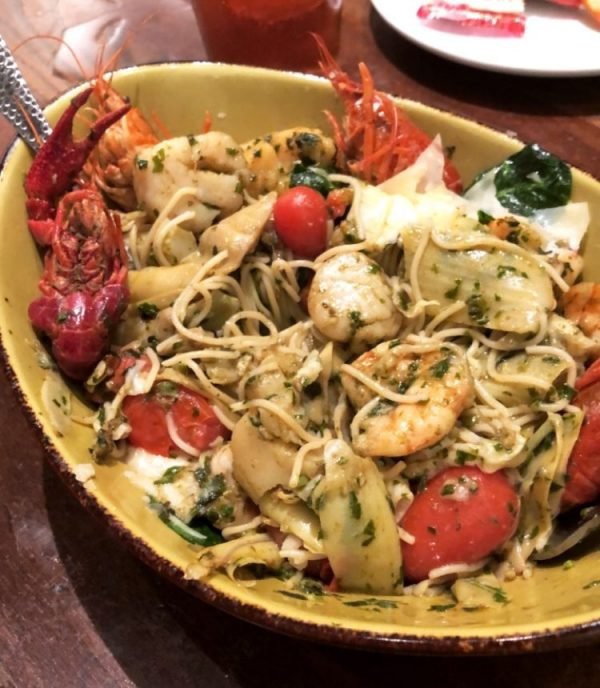 More Free Time
On my second morning, I woke up and saw the most beautiful sunrise ever. The weather was expected to be a little better on my second day so I was able to go out towards the beach after having a fantastic breakfast from the beach house. They do offer room service but since it was a short walk 5 min or 1 min drive I decided to go down and get some pancakes to go. I don't know what it is about Holiday Inn Resorts but the pancakes are always amazing. I walked around the resort a little and I decided to lay by the pool and relax. There were not many people out by the pool so it was quiet. The perfect time to read a book and reflect.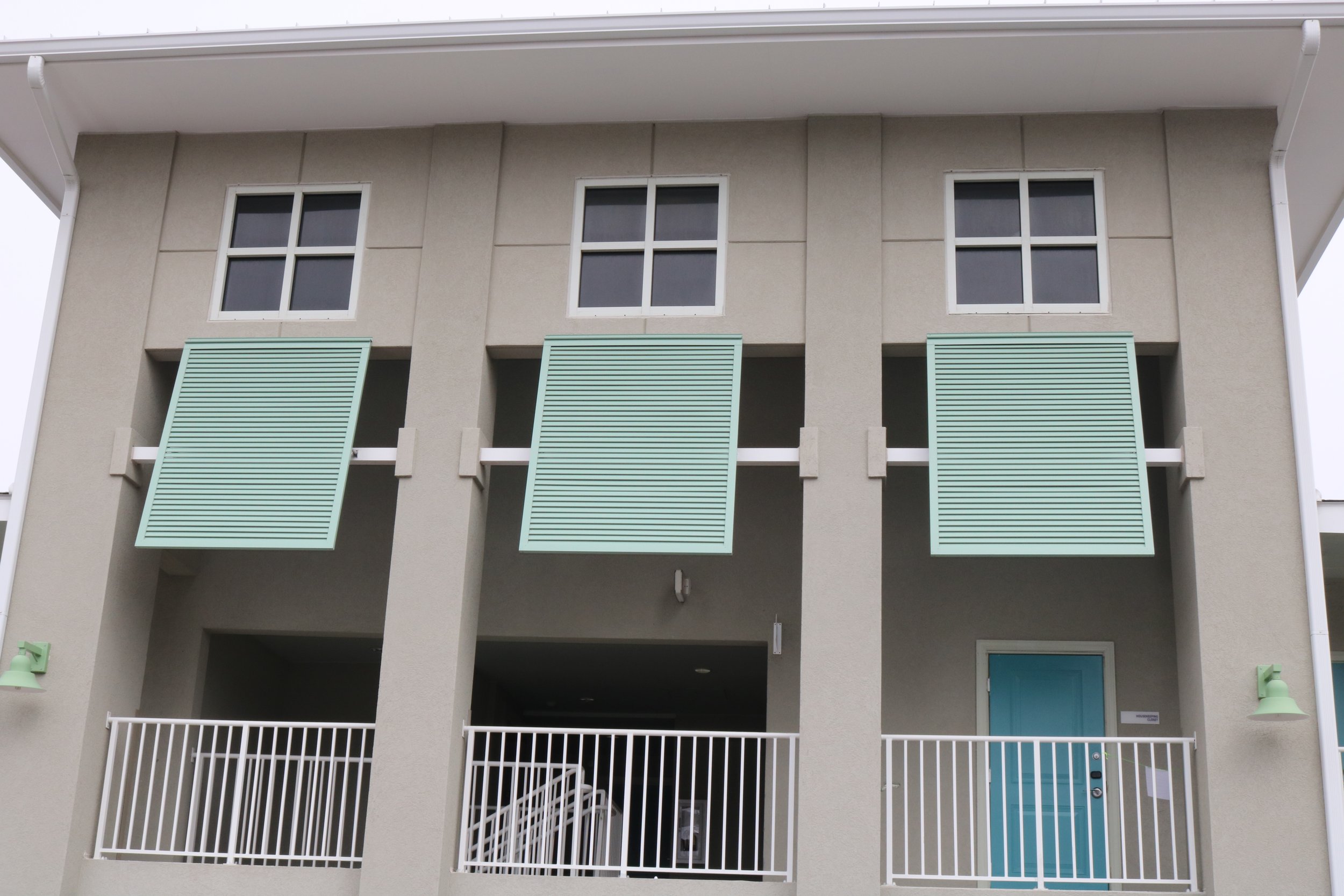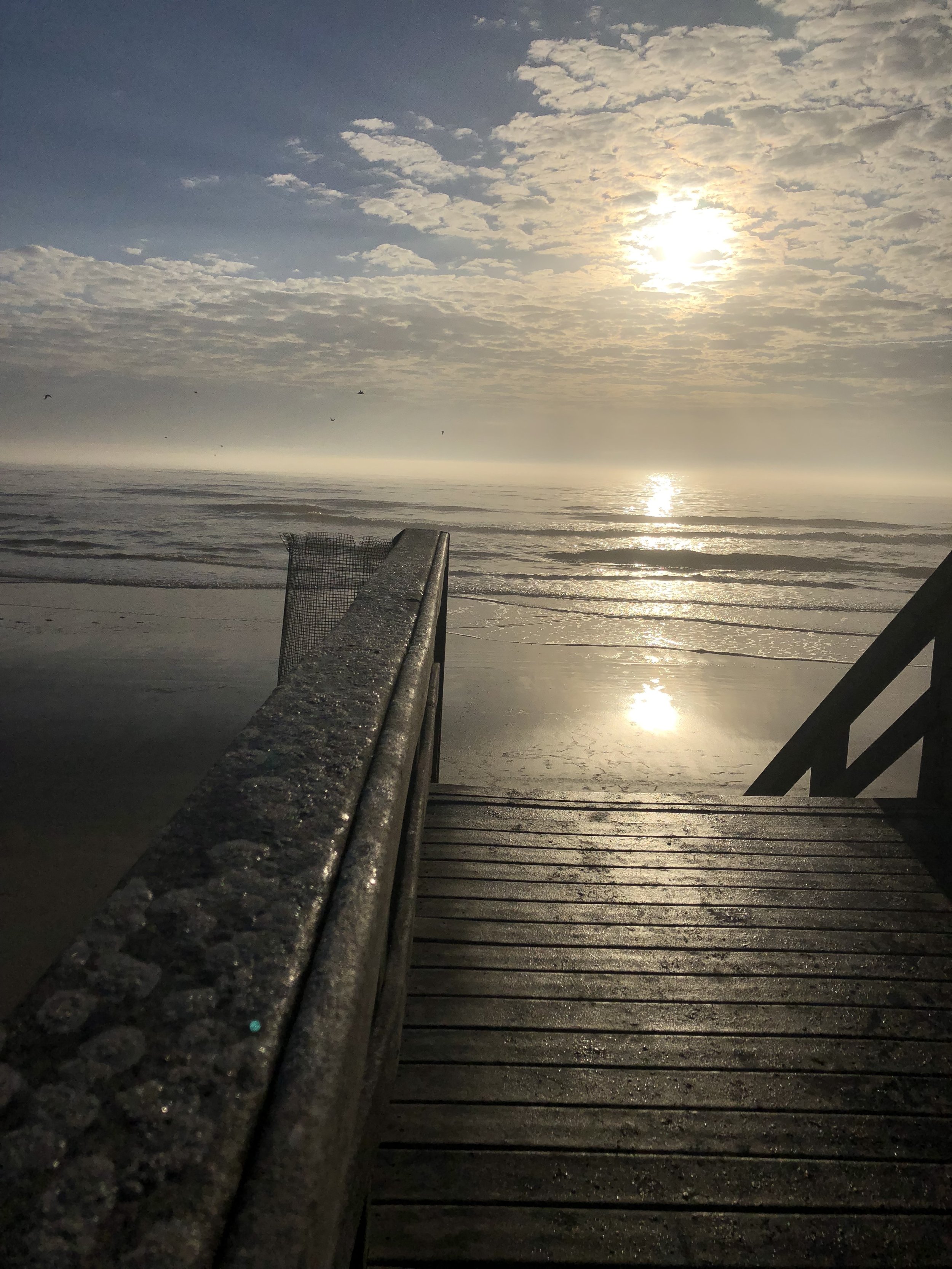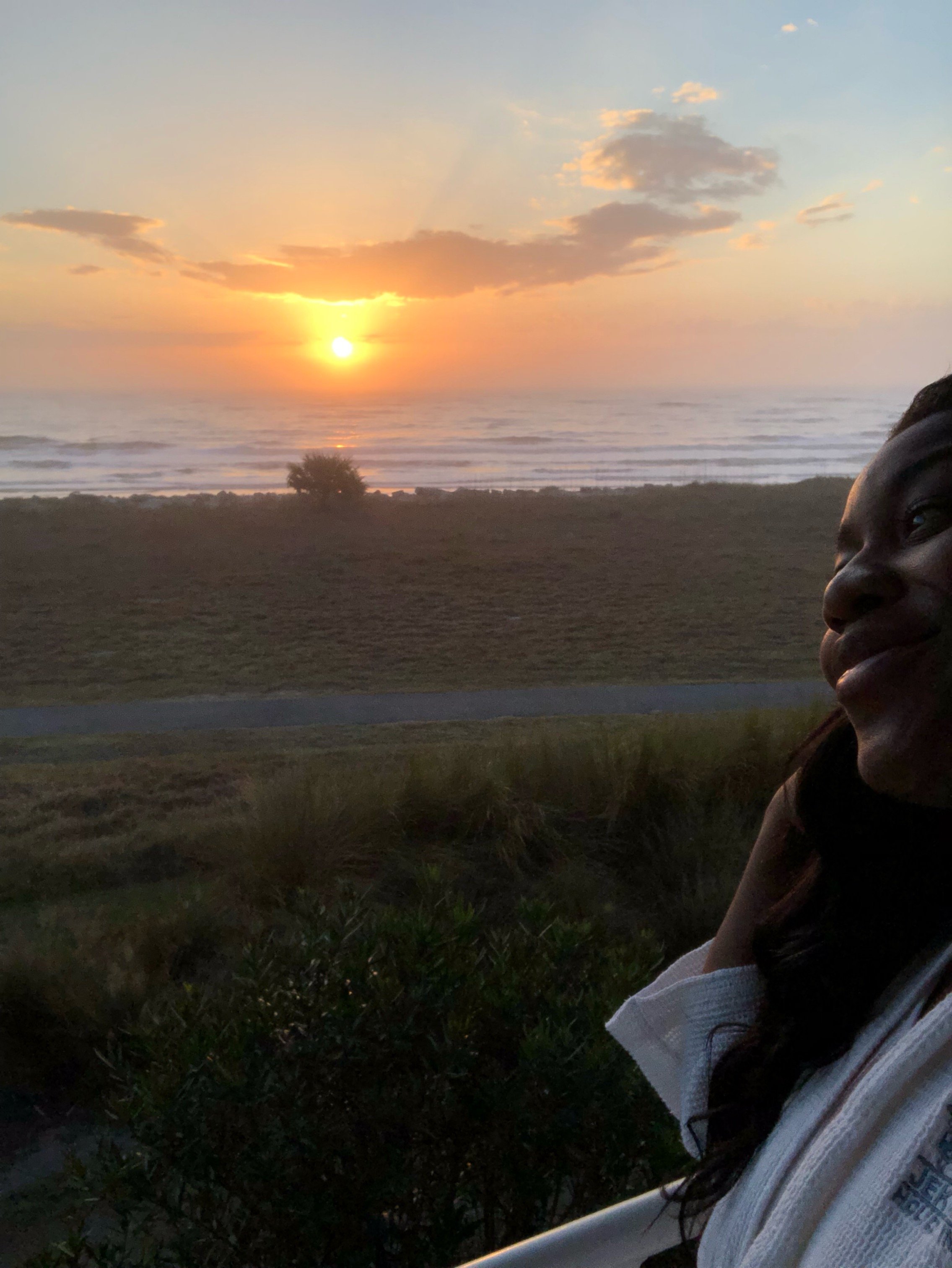 More Food!
After spending time at the pool, I decided to go for lunch at the beach house! I promise you that everything that I ate from the beach house was absolutely outstanding. I had a delicious pineapple chicken guac sandwich and burger. I must add that everybody on the island was super friendly. People were waving to me when I woke up and watched the sunrise from the balcony. I even met friends while out eating. Being alone sometimes makes you step out of your comfort zone in many different ways than you wouldn't.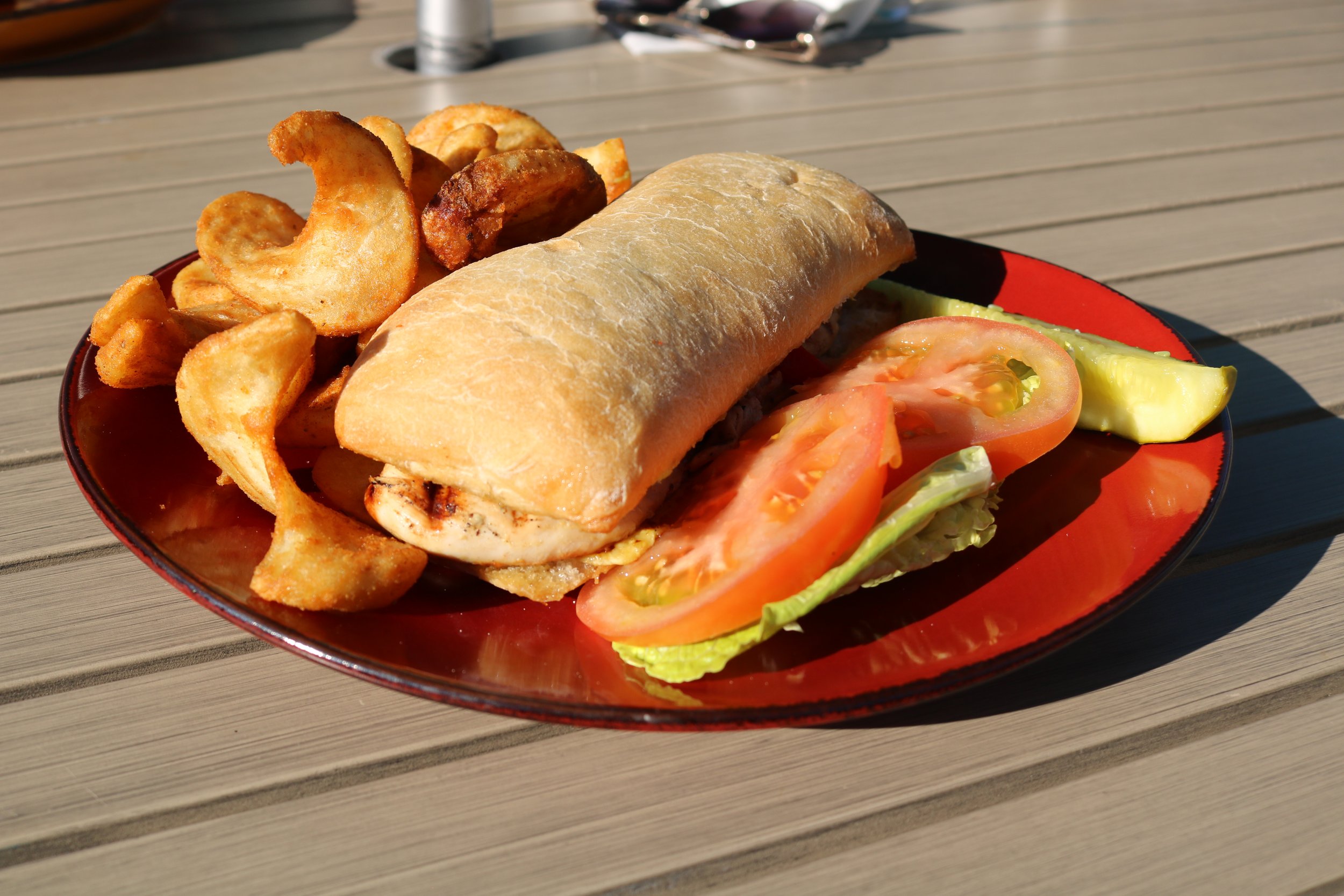 I'm glad I stepped out at the Holiday Inn Resort on Jekyll Island. Maybe you should too. And yea, bring your shades, bug spray, and suntan lotion.
Have you been to Jekyll Island before? If so, what was it like? Let me know in the comments!