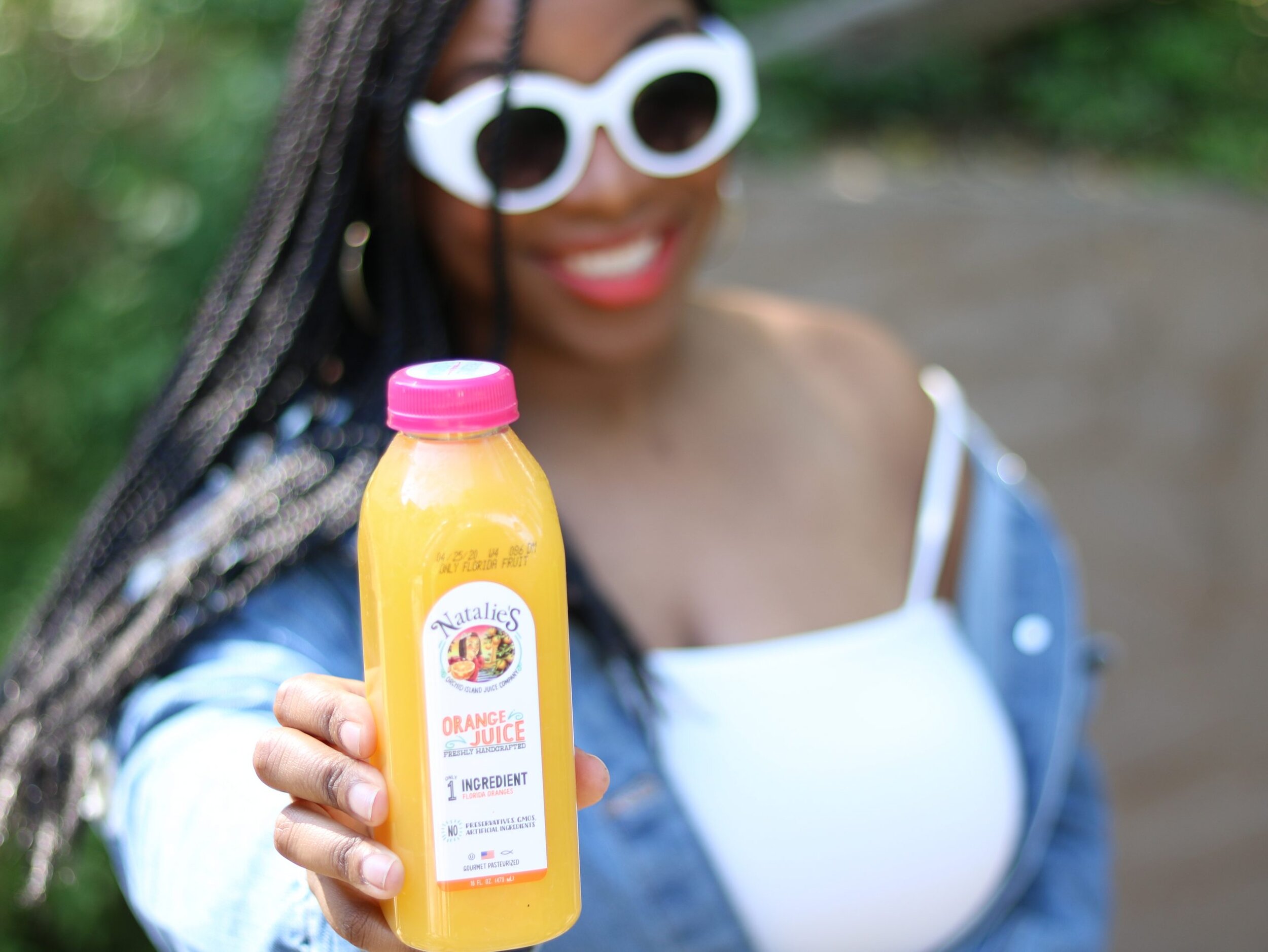 Here are 4 delicious smoothie recipes using Natalie's Orchid Island orange juice! Great for breakfast or a snack!
I love orange juice!
I prefer it over any other type of juice when I am eating breakfast. I grew up with my late father making breakfast and pouring up a glass of cold fresh Florida oranges with exactly three ice cubes for me and my two younger siblings.
Good juice is sentimental to me.
So quite naturally when Natalie's Juice Company reached out to me to share their products I was eager to try them. (Although they have sponsored this post, you can always count on me to be 100% honest. And let me tell you, this is my favorite right now)!
I'm sharing the benefits of choosing Natalie's Orchid Island Orange Juice, plus 4 delicious smoothie recipes you'll love!
Why Choose Natalies's Orchid Island Orange Juice?
Single Ingredients
When I read up on the nutrition facts, I thought, just one ingredient? Hmm… must be good! And it is!
Before this, I'd opt for the store organic brand but this has proved to be so much better. When my younger brother tasted it, he said "Yeah, all those other juice companies have to step their game up". The next day he asked, "Can I have this last orange juice?" The following day, he Facetimed me from his job drinking a bottle while on break.
It's safe to say we are both obsessed!
Fresh, Natural, High Quality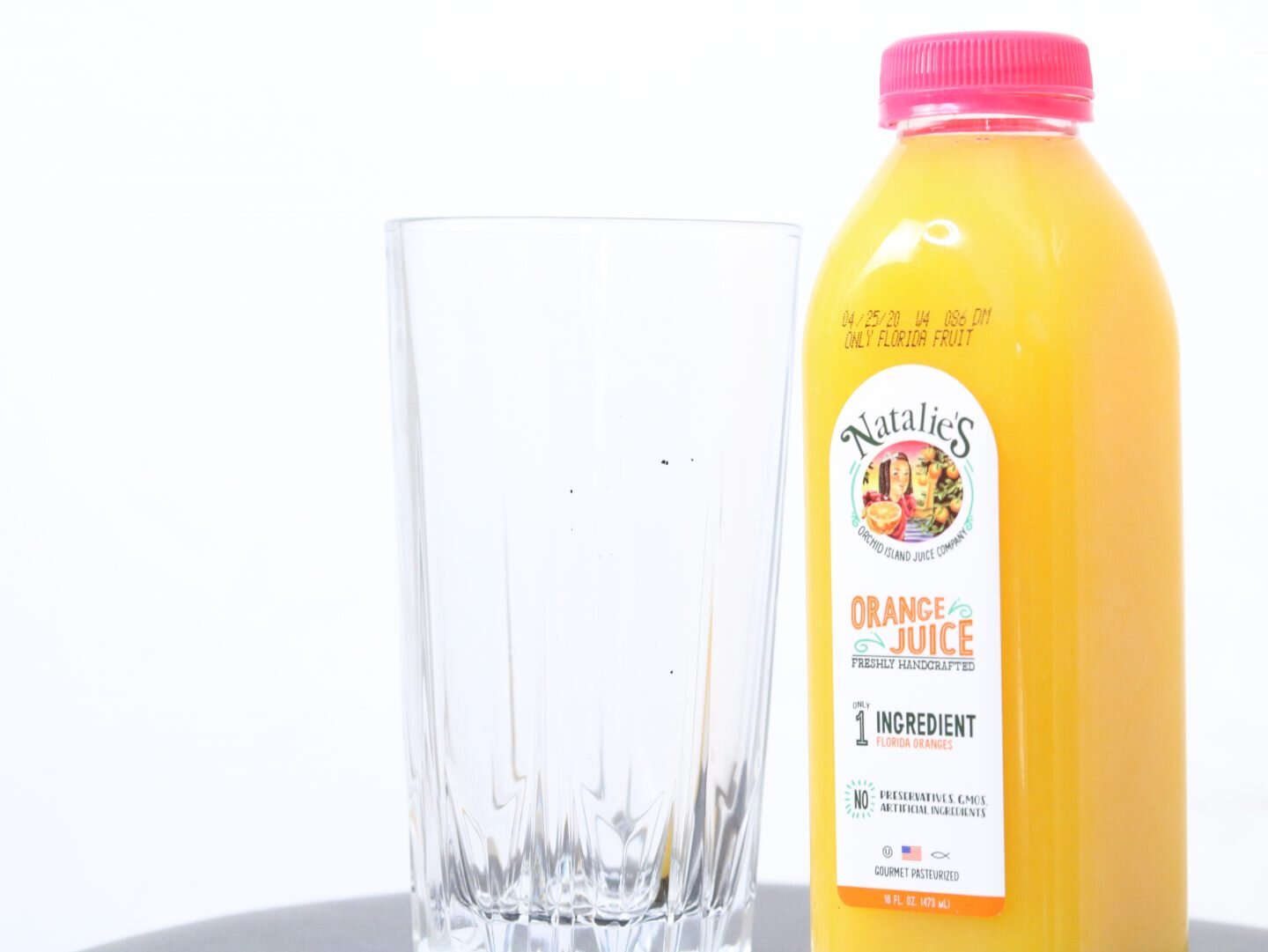 We bought another brand (from concentrate) OJ after tasting Natalie's. I've never poured OJ out because I don't believe in waste at ALL, but I had to. Once you go Nat's it's hard to go back!
It was really hard to drink anything else after you know what fresh tastes like.
In today's day and age, I do believe in supporting companies that bring you fresh and quality products. We've already got so much on our plates, worrying about what's in the things we consume shouldn't be one of them!
Here's a quality statement from their website:
"From fresh Florida citrus juices to wholesome nutritious fruit & vegetable blends, Natalie's selections offer clean, handcrafted products for the juice connoisseur.

All Natalie's juices are made The Natalie's Way: honestly sourced, squeezed fresh, made in small batches, & minimally processed without the use of additives, preservatives, or GMOs."
Woman-Owned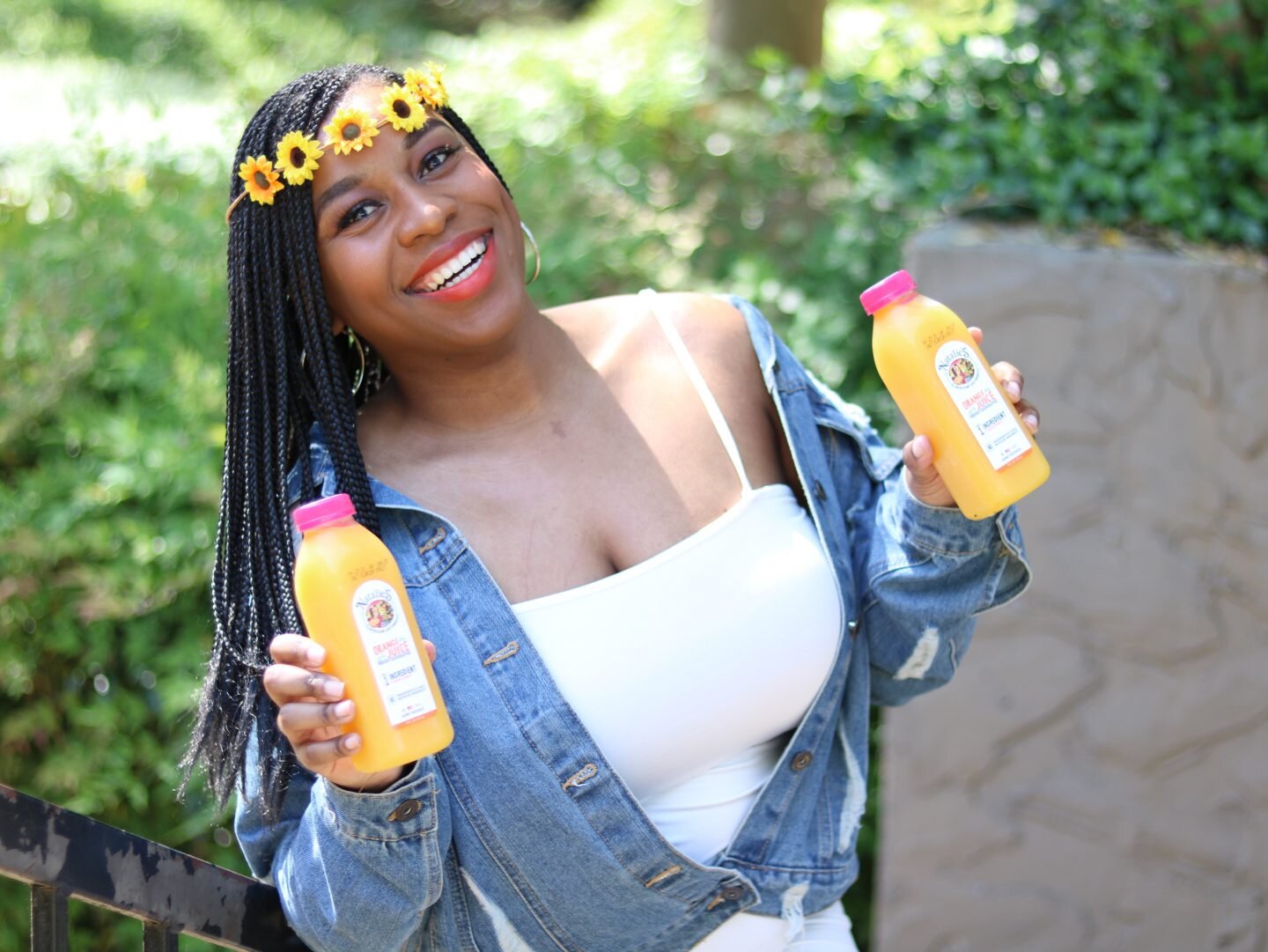 Natalie's is a woman owned company that prides itself on having orange juice that has one ingredient only!
They also have a variety of other juices outside of orange that you can use to make delicious smoothie recipes. (I purchased the strawberry lemonade in half gallon size, and the relax which has passion flower (look up those benefits)).
They offer over 20 juices and juice blends for every taste and health benefit. They even have a margarita mix. If you have specific wellness goals, you can chose specific drinks to improve your lifestyle:
It is safe to say that this brand will be a staple in my fridge because of the way they produce their products and the amazing taste that I love!
The Best Smoothie Recipes Ever!
1 – Healthy Copycat Orange Julius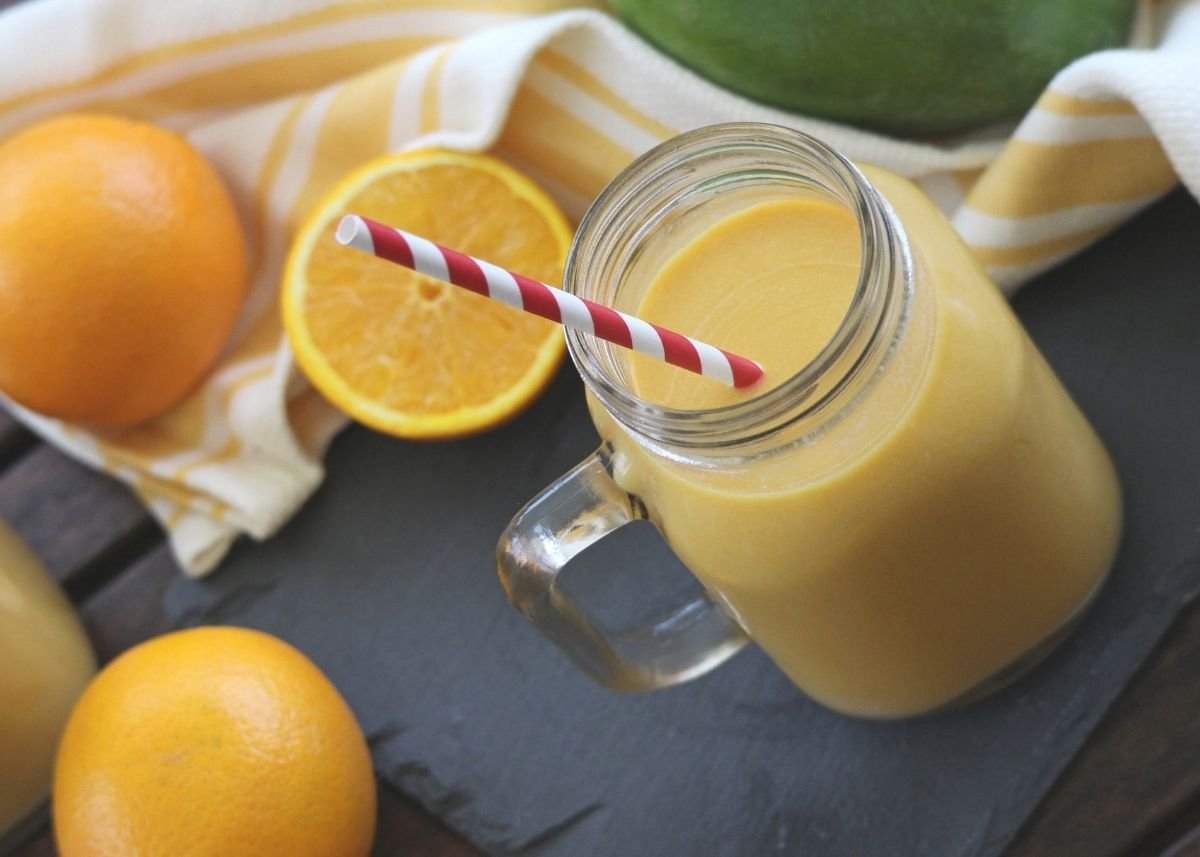 Craving an Orange Julius but don't want to leave the house? Here's an easy and delicious copycat orange smoothie recipe from Dessert Now Dinner Later that you can make in a snap. And you'll only need a handful of ingredients!
INGREDIENTS
 6 oz frozen orange juice concentrate (1/2 can)
 1 cup COLD water
 1 cup milk
 1/3 cup granulated sugar
 1 tsp vanilla extract
 2 cups ice
DIRECTIONS
Place all items in your blender. And blend until smooth.
2 – Immunity Boosting Orange Smoothie with Spinach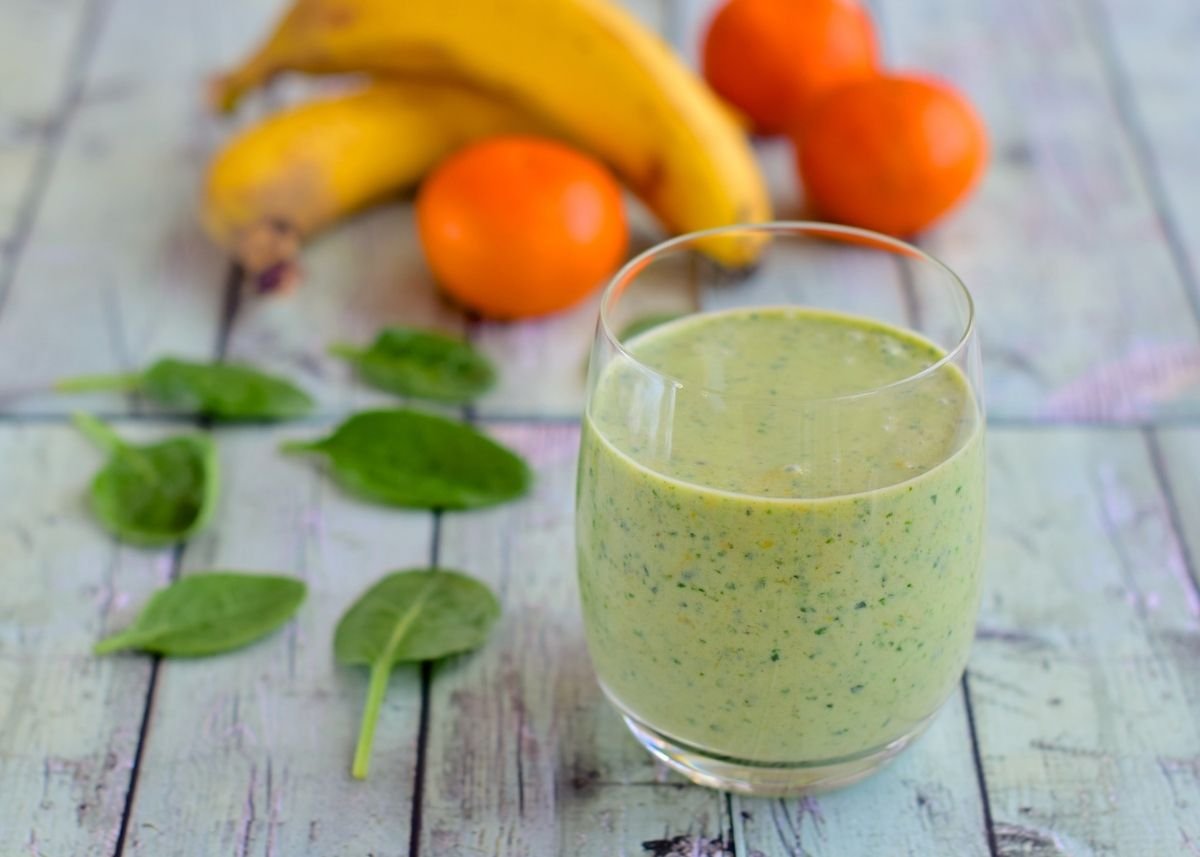 Here's a delicious immunity-boosting orange smoothie recipe inspired by Kristine's Kitchen! Use this 6-ingredient smoothie to give your body a leg up during cold and flu season. Or just because! It's healthy, tangy-sweet, and so easy to make!
INGREDIENTS
1 large orange (peeled)
½ medium banana
1 cup frozen mango pieces
½ cup almond milk
¼ teaspoon vanilla extract
Handful of spinach
DIRECTIONS:
Place all items in your blender. And blend until smooth.
3 – Mango Orange Banana Smoothie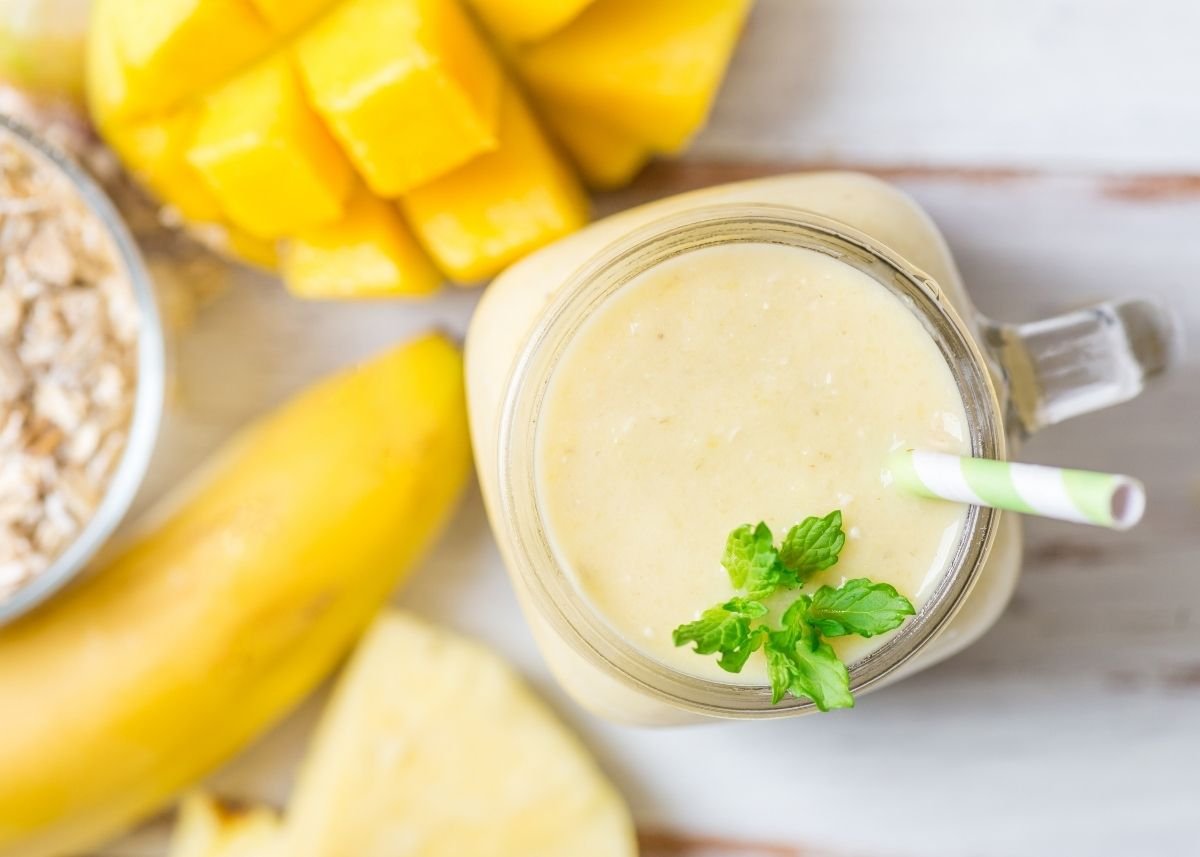 Here's another refreshing and healthy orange smoothie recipe that can help stave off a cold. But, it's so good, you'll want to make it year-round anyway. It's great for breakfast or an easy snack.
INGREDIENTS
2 cups orange juice
1 cup vanilla yogurt
1 cup frozen mango chunks
1 banana
1 tbsp coconut oil
1 tbsp raw honey
1 cup ice, optional
DIRECTIONS:
Place all items in your blender. And blend until smooth.
Recipe from Pennywise Mama.
4 – Healthy Berry Orange Smoothie
This healthy berry orange smoothie is the perfect breakfast or refreshing treat to enjoy during warm weather months. And it only takes 2 minutes to make!
INGREDIENTS
1 cup frozen whole cranberries
1/2 cup frozen orange slices
1/2 cup vanilla Greek yogurt
1 cup milk
1/2 cup orange juice
1 teaspoon vanilla extract
2-3 tablespoons sweetener (honey, maple syrup, coconut sugar, or monkfruit for low carb)
1 tablespoon chia seeds (optional)
DIRECTIONS:
Place all items in your blender. And blend until smooth.
Recipe from It Starts with Good Food.
What Did You Think of These Smoothie Recipes?
I hope you enjoyed these delicious smoothie recipes and that you'll try the orange juice from Natalie's orchid Island.
Have you all seen or tried Natalie's juice? Comment below and get yours here!
More Like This: