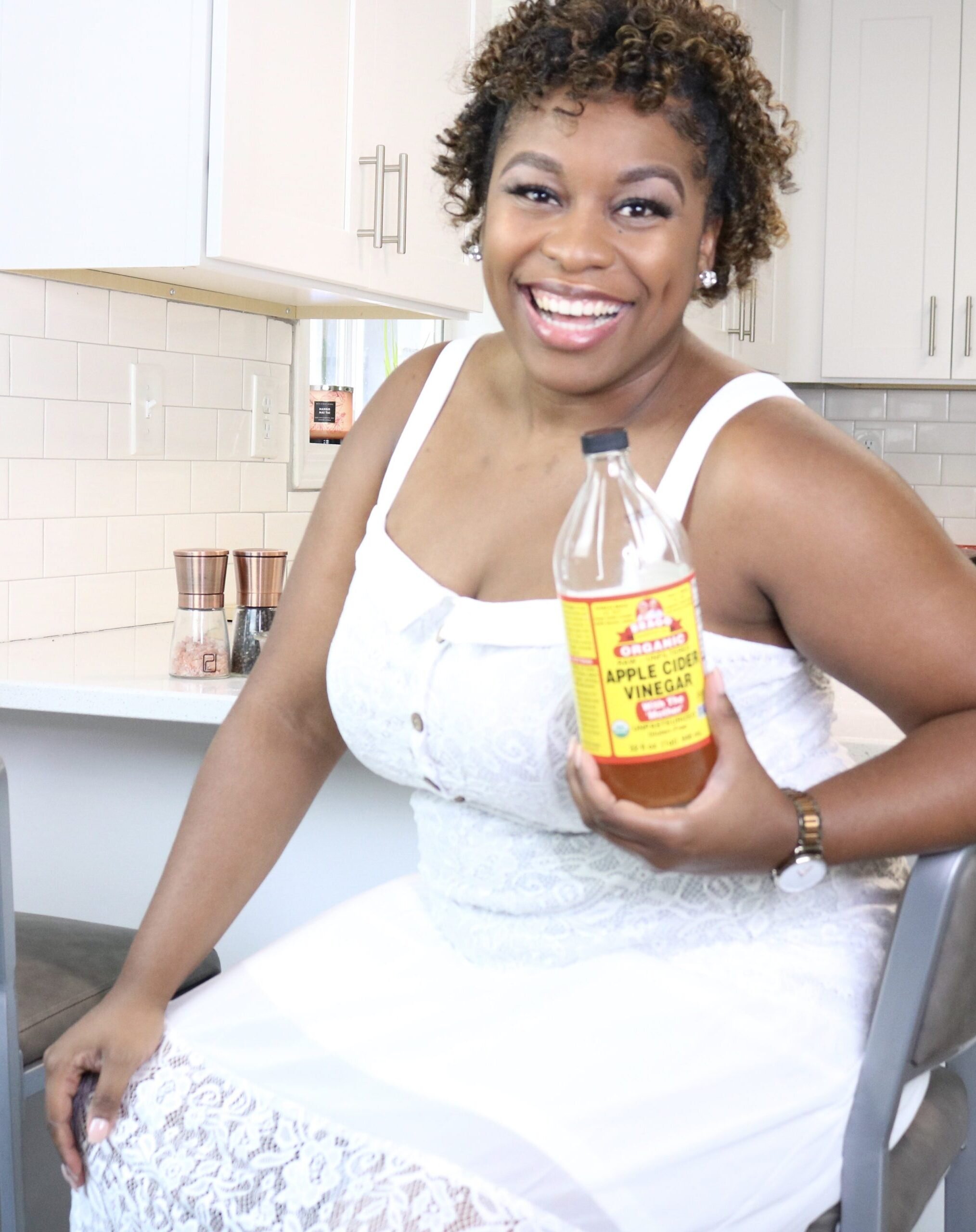 I wanted to share three quick hacks to help you eat healthier starting today- as I have been making a few lifestyle changes lately.
Thanks so much to my friends at BRAGG live foods for sponsoring this post. I will be working with them through the month of September and I'm super excited to partner with another brand I love. As always, all opinions are my own. You can shop all items by visiting my Amazon Store, Curated by Karisma.
Ways to Use Bragg Apple Cider Vinegar
Here are just a few of the uses for Bragg Apple Cider Vinegar you can try today:
To Lower Your Blood Sugar

For Weight Loss (some studies indicate it can help you consume less calories and help you feel more full)

In Salad Dressing (see below)

To Soothe a Sore Throat (heat and gargle)

For Washing Fruits and Vegetables

As a Drink (see below)
ACV Life Hacks for a Healthier You!
Make Smarter Food & Beverage Choices
Trust me, I get it. It's been a long summer with you "mostly" staying indoors and eating "most" of your quarantine snacks. We're sitting around more and maybe not making the healthiest choices.
Along with eating better, drinking plenty of water is key to improving health. And the fact is, you'll probablydrink more water when it tastes good to you-and when it's from a jug.
Hack #1 is keeping loads of water that actually tastes refreshing:
Various water brands have different tastes. Try adding Bragg Apple Cider Vinegar to warm alkaline water, lemon, and honey for a nighttime detox drink. You can pick Bragg Apple Cider Vinegar from your local Kroger. Having this drink handy has proved to help my digestion and also my skin! It has been one of the best things I've done for myself lately. Apple cider vinegar has so many health benefits like supporting a healthy gut and immune system.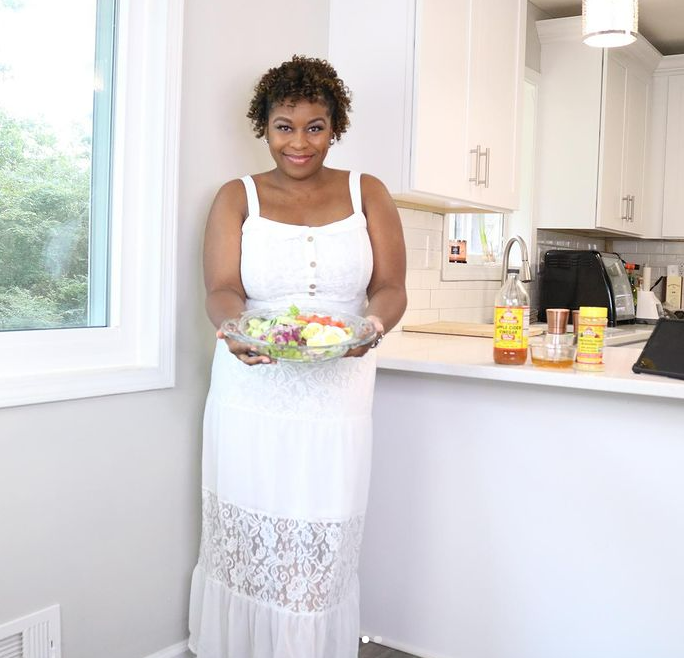 Skip the Takeout
Takeout is super convenient, especially during a worldwide pandemic. But, it's not always the healthiest choice. I'm definitely not advocating cutting this completely out of your life (I love a good call in order to a restaurant). However, we all need healthy balance!
Hack #2 Involves you making vs cooking:
When you make a food item from scratch, it is likely to be more healthy than foods that are pre-made or processed that you just cook or use as is. Here's what I mean: when you actually have to make a salad. When you actually have to make a smoothie. When you make food it takes a little more energy but it's more likely to have live or raw ingredients and less preservatives which is much better for you. I was able to use BRAGG Apple cider vinegar to make my own honey Vinaigrette dressing! Keep reading for the recipe.
Prep, Prep, Prep!
Making your own food brings me to my next point and final tip… Are there healthy foods you can easily grab for your breakfast, lunch and snacks in your fridge? If not, maybe it's time to start practicing some meal prep. You'd be amazed what a difference it can make in your daily routine.
Hack #3 Keep Easily Accessible Veggies and Health Foods on Hand:
Cut your vegetables up and keep them in glass containers in your fridge! You'd be surprised by how much more vegetables you'll eat if you chopped them up and put them in plain view. You can do the same with fruits and pre-portioned meals as well.
It's the preparation for me. Every time I'm prepared, I do better!
Don't forget the free apple cider vinegar dressing recipe below:
BRAGG Apple Cider Vinegar Dressing Recipe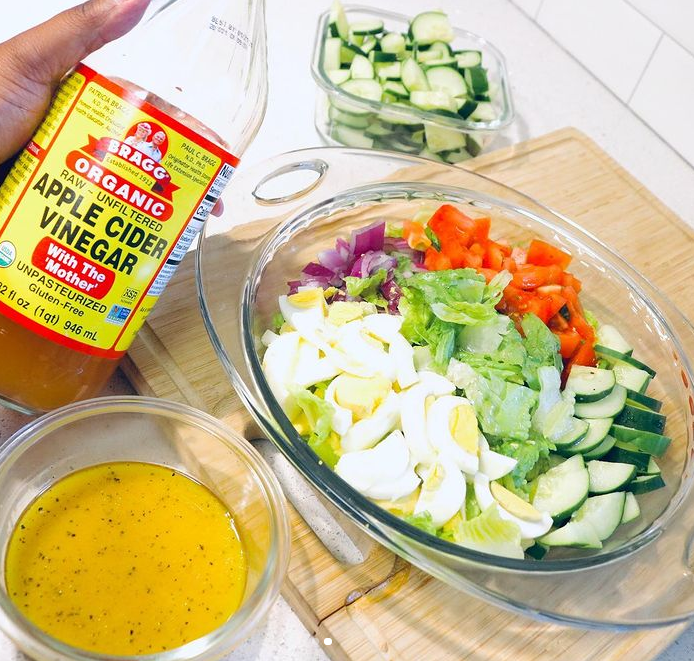 Salads can be super exciting when you make your own dressing!
You can get creative by following the recipe below….
BRAGG Apple Cider Vinegar

2 Tablespoons of dijon mustard

2 Tablespoons of honey

Salt & Pepper to taste
Make sure you all use these hacks to start your journey to a healthier you! Choose one and commit to it this week! What are ways you use Apple Cider Vinegar around the kitchen and home?