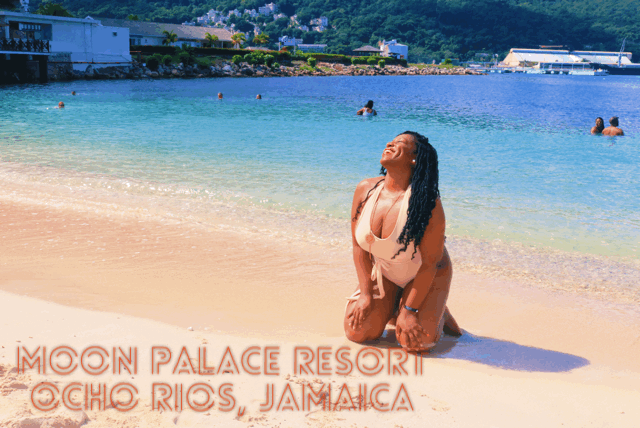 "Imagine a place where you can live life and experience it like you never have before. Imagine a place where someone is catering to your every need and want; with a smile. Imagine the sun; in the most beautiful state you have ever seen beaming down and blowing you kisses of sun rays. Imagine gentle light blue waves of forever. Calm, cool, and collected. Imagine a place like Moon Palace Jamaica." -Karisma Ray
My first trip on behalf of my blog was to Ocho Rios, Jamaica [Scroll all the way down for VIDEOS].
This trip was hosted by Palace Resorts but all opinions remain my own.
I'd heard a lot about Negril as well as Montego Bay but it was Ocho Rios calm and collected vibes that I truly fell in love with. The trip was truly amazing and even more because I experienced it with my good friend Christal! We had an absolute blast living "The Palace Life". I'm here to announce we are officially the "Princesses of the Palace". All things aside; above all, the most important element to the experience was the people of Jamaica.
I will shout them out later, but let's talk about my travels!
Getting to Ocho Rios
Christal and I both love Southwest Airlines so that was a no-brainer. We frequently fly with them and they are our preference when traveling. We arrived in Montego Bay from FLL and as SOON as we got off of the plane a VIP Club Mobay agent, Kim, met us hold a customized sign-yay!!
Kim was literally our first impression of Jamaica and she made an excellent one. She almost reminded you of a younger sister who is showing you around her city. She gave us a few tips on the Jamaicanlife and led us to the lounge. As we walked, we noticed we were on the "fast track", literally walking around every. single. person. We headed straight to the front of the passport check line. I just can't see myself traveling to Jamaica without using this service!
We went to a VIP lounge and were catered to from the door. Complimentary food and drinks along with transportation to the resort were included in our package. We waited about 30 min in the lounge and enjoyed it until we got on the bus.
The bus was not a party bus, but it was a party on the bus! We entered to Caribbean music as our fellow passengers danced and danced-excited about the trip! We got cheers and high fives. It was that kind of party. Ocho Rios was about one and a half hours away and we made a bathroom stop about 20 minutes away from the resort. They sold beef patties and other types of food at the pitstop. We got back on the bus and then we arrived at the resort shortly after.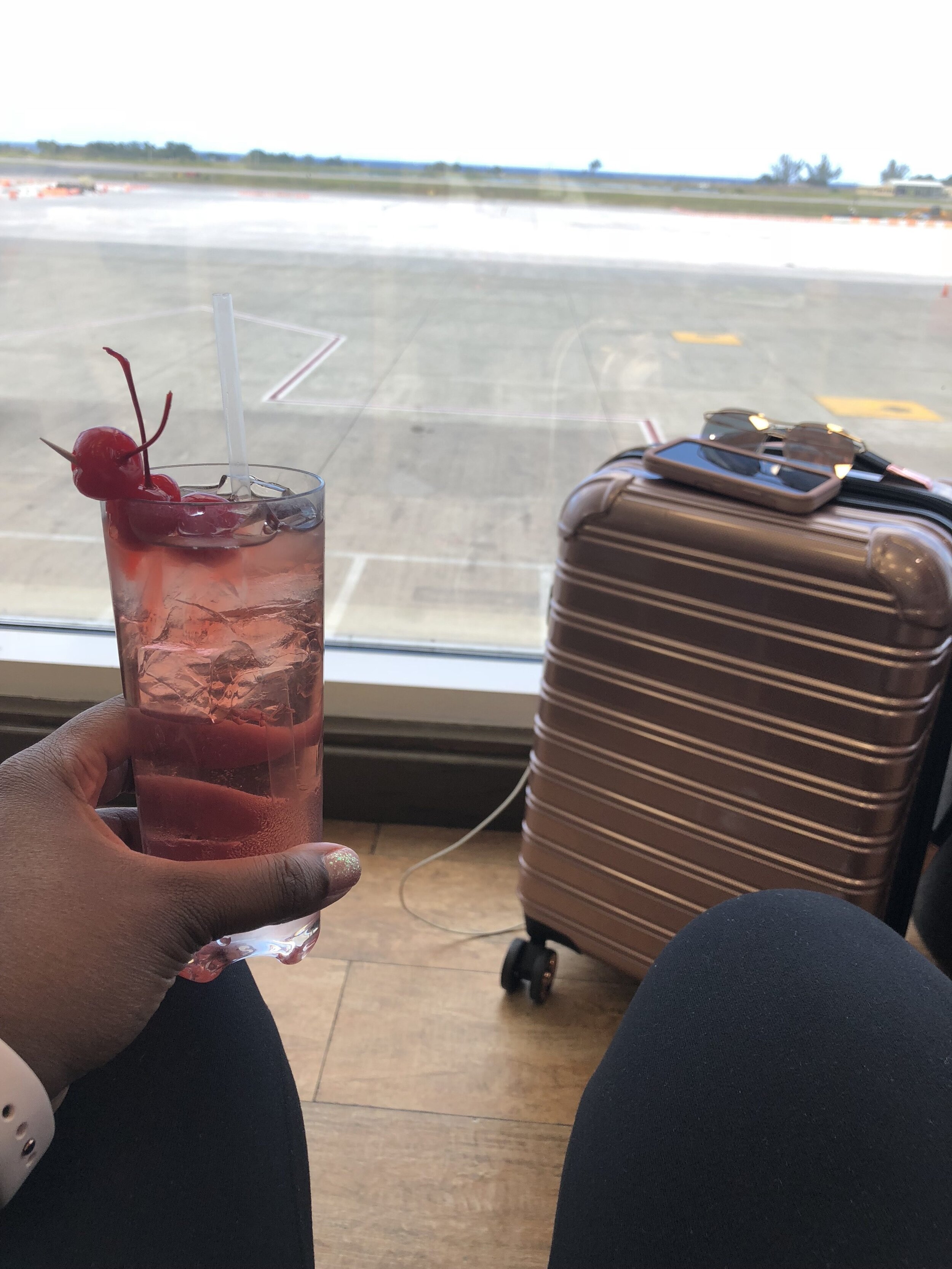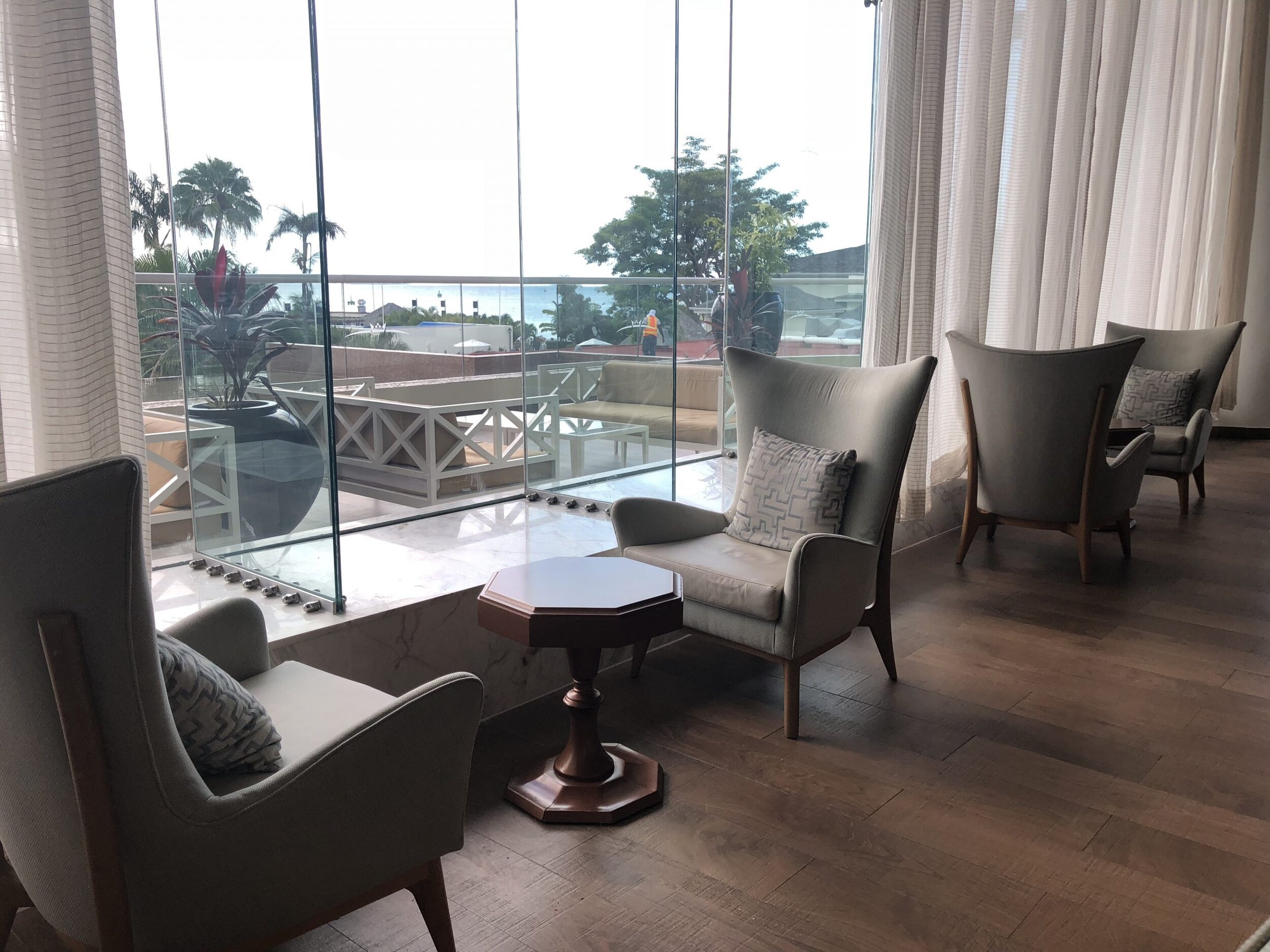 Checking In
When we got off of the bus the staff was waiting for us with carnation flowers, cold scented rags, and complimentary juice.
The lobby was beautiful. A perfect blend of chic and comfort along with a hint of nature.Moon Palace is an all-inclusive resort so everything was included in our stay.
The room we stayed in had a full ocean view and a balcony. It was very clean and honestly, it was one of the most comfortable beds I slept on in a long time.
The view was incredible!
The room came with the robes and slippers in the closet. It also came with a full bar are you considering as well as juice and other types of drinks. It had everything we needed and the palace resort even provided CHI hair products as well as body products. Such a warm welcome!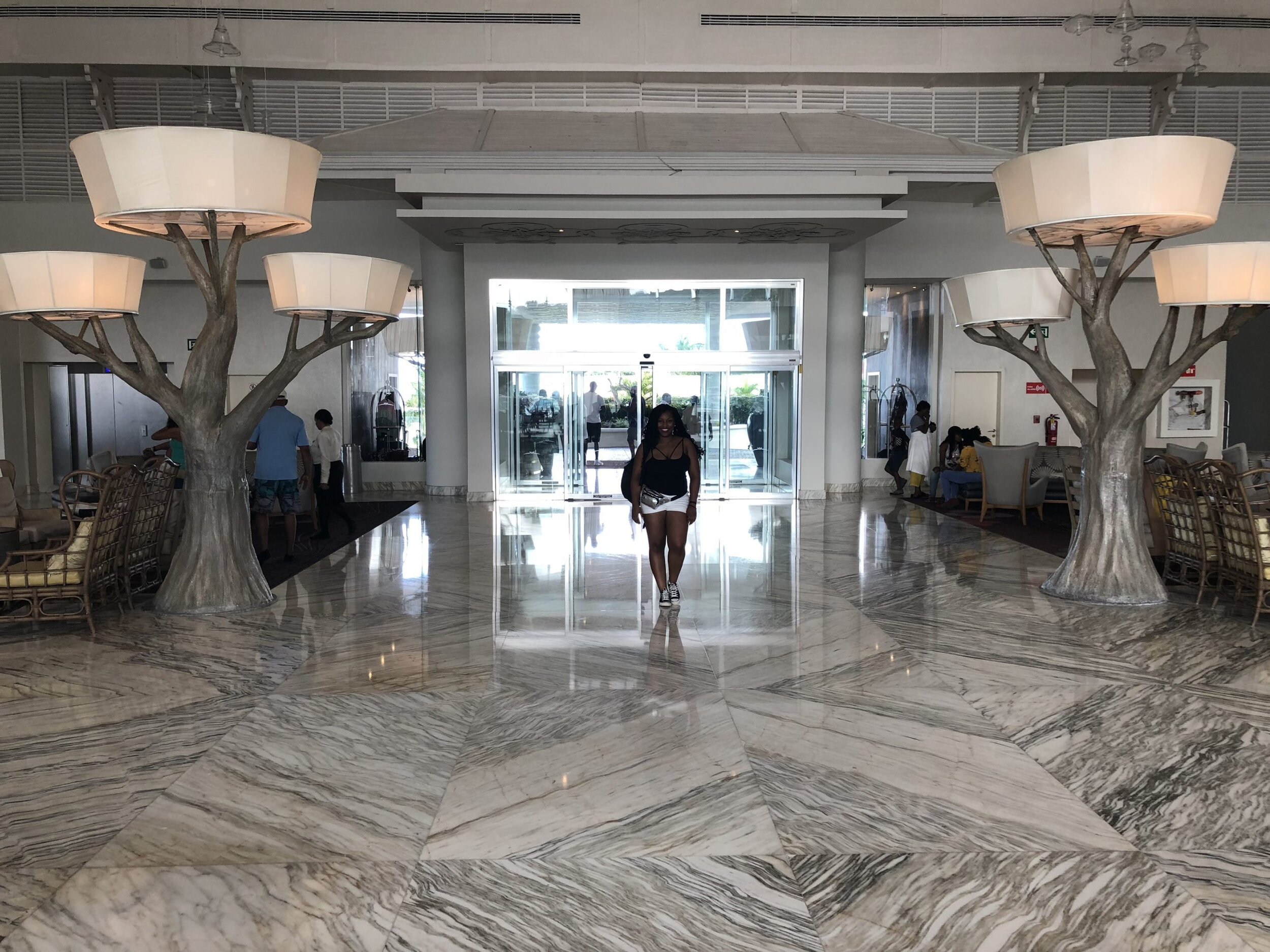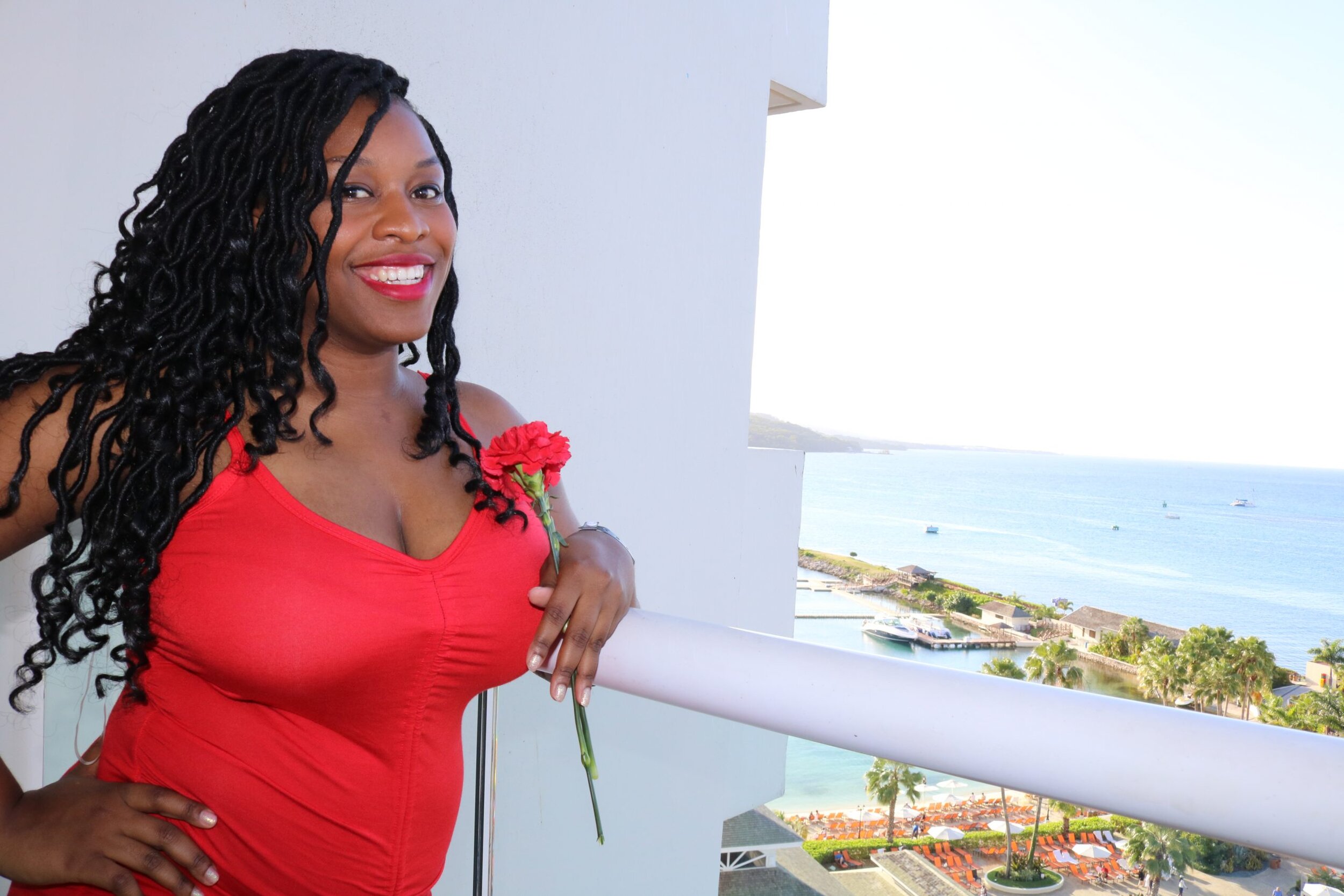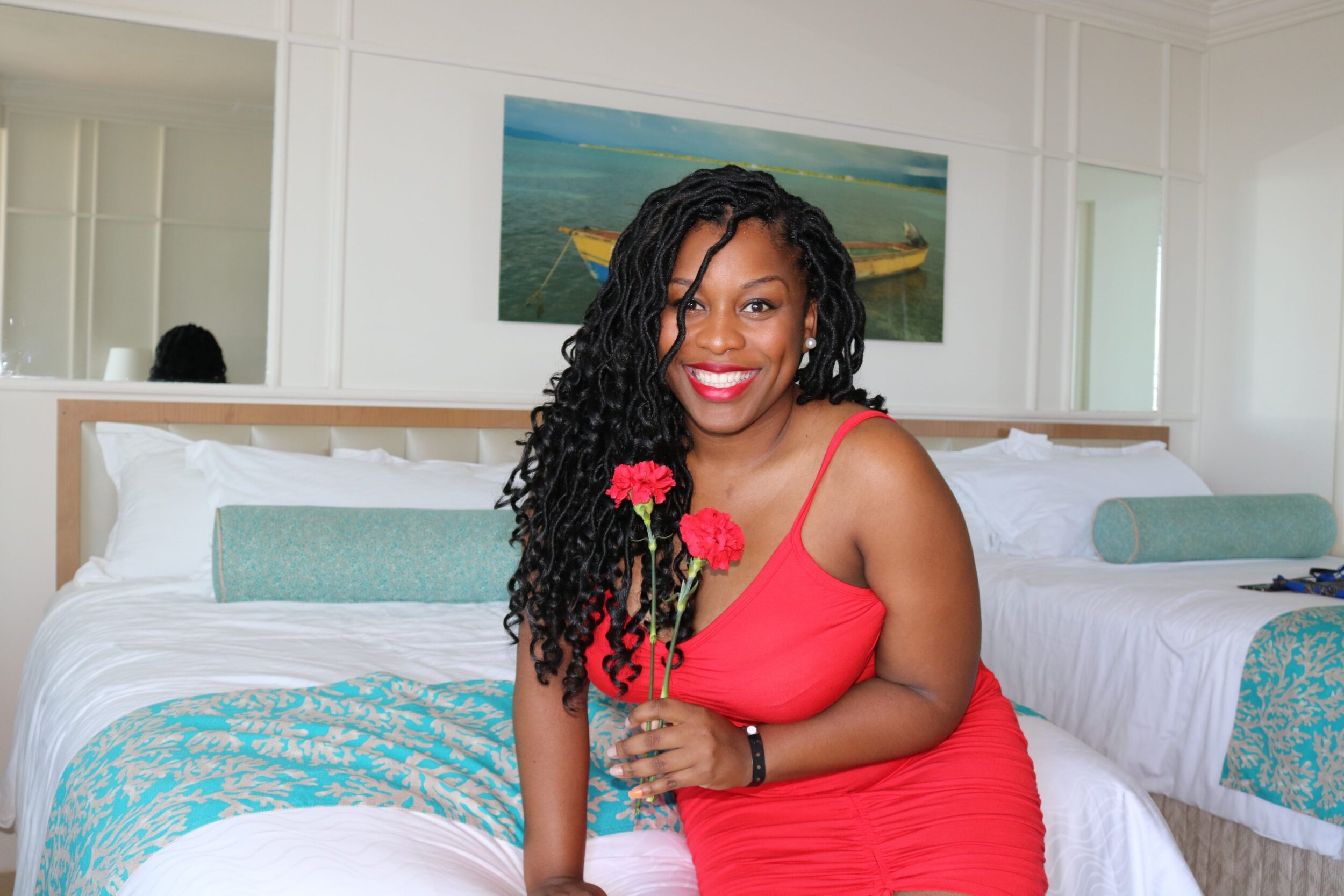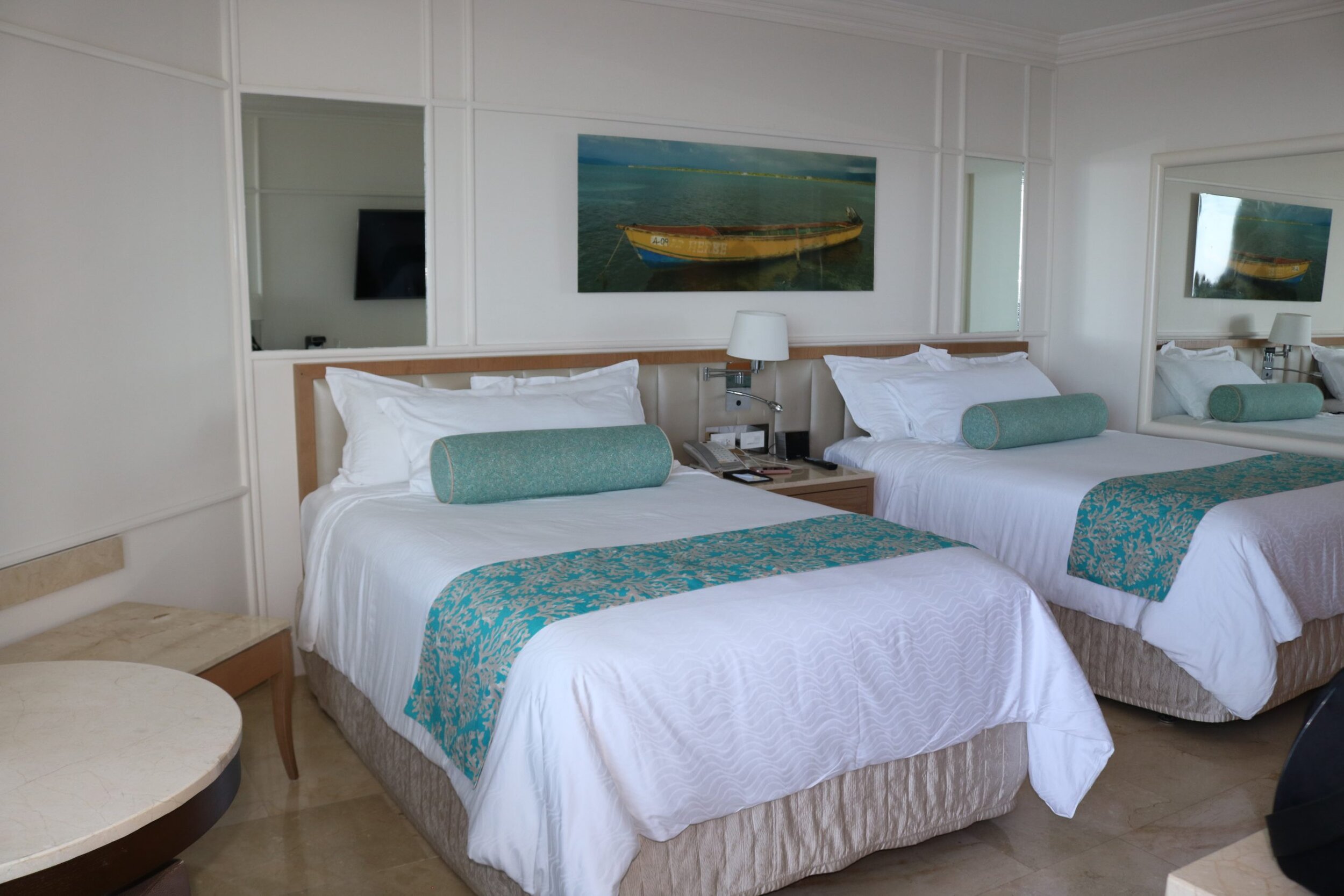 Entertainment & Attractions
The resort had three main buildings and we stayed in building two. All of the pools and activities were mainly in front of building number two. There were about three main pools on the resort grounds. A hot tub was also included.
Poolside Food
You could literally sit at the bar, in the pool, and eat. They had a menu that had burgers, Jamaican tacos, and fast food. You just ordered and it showed up right there!They had two swim-up bars. Jamaican food delivered right there! My jerk chicken plate was delish!And so were the drinks! Our bartender Damien's attention to detail was everything! He made this custom concoction- it was amazing. Thirty minutes later we saw him jogging across the beach with two more-no lie! He found us and brought us more. The.Best.Service.Ever.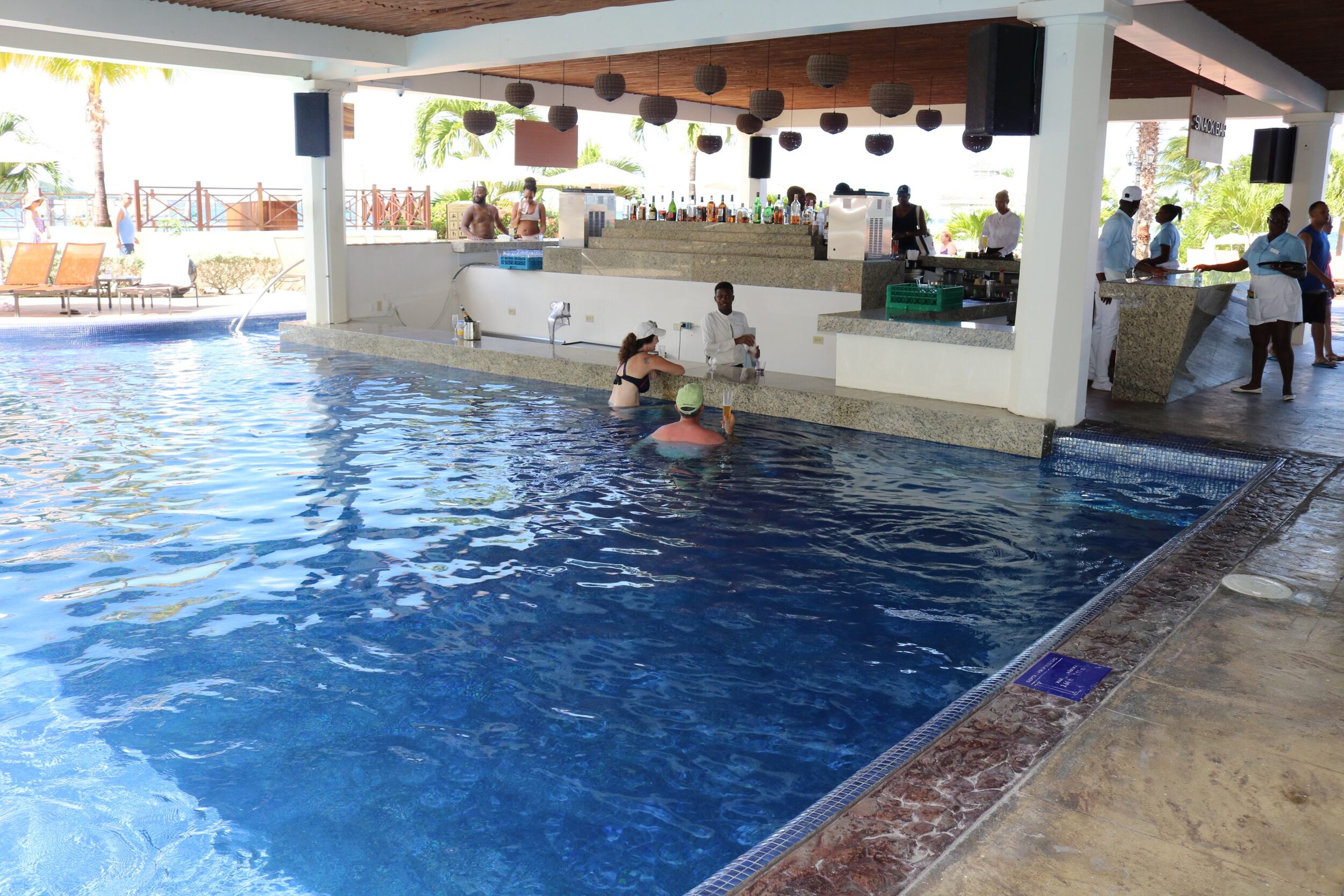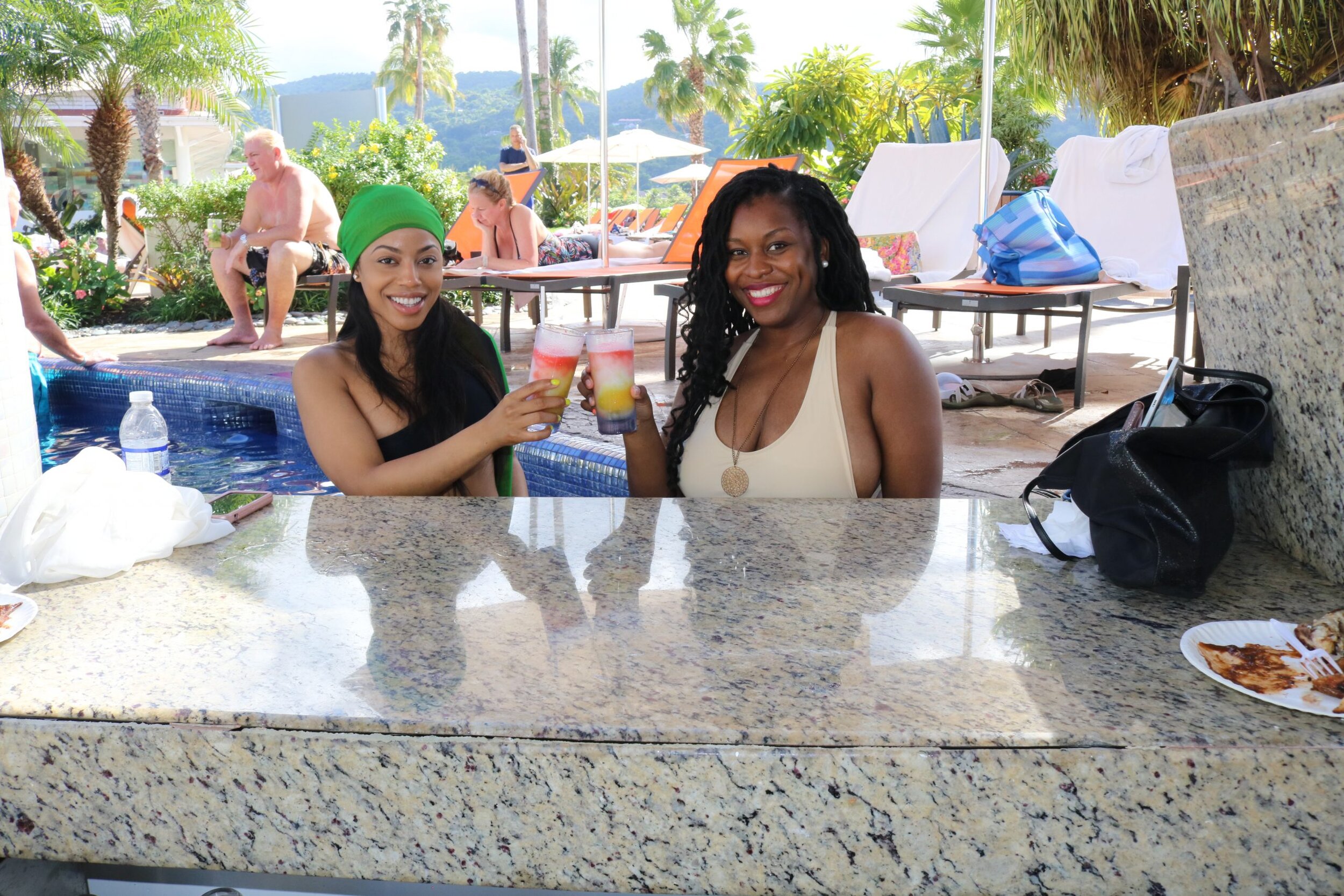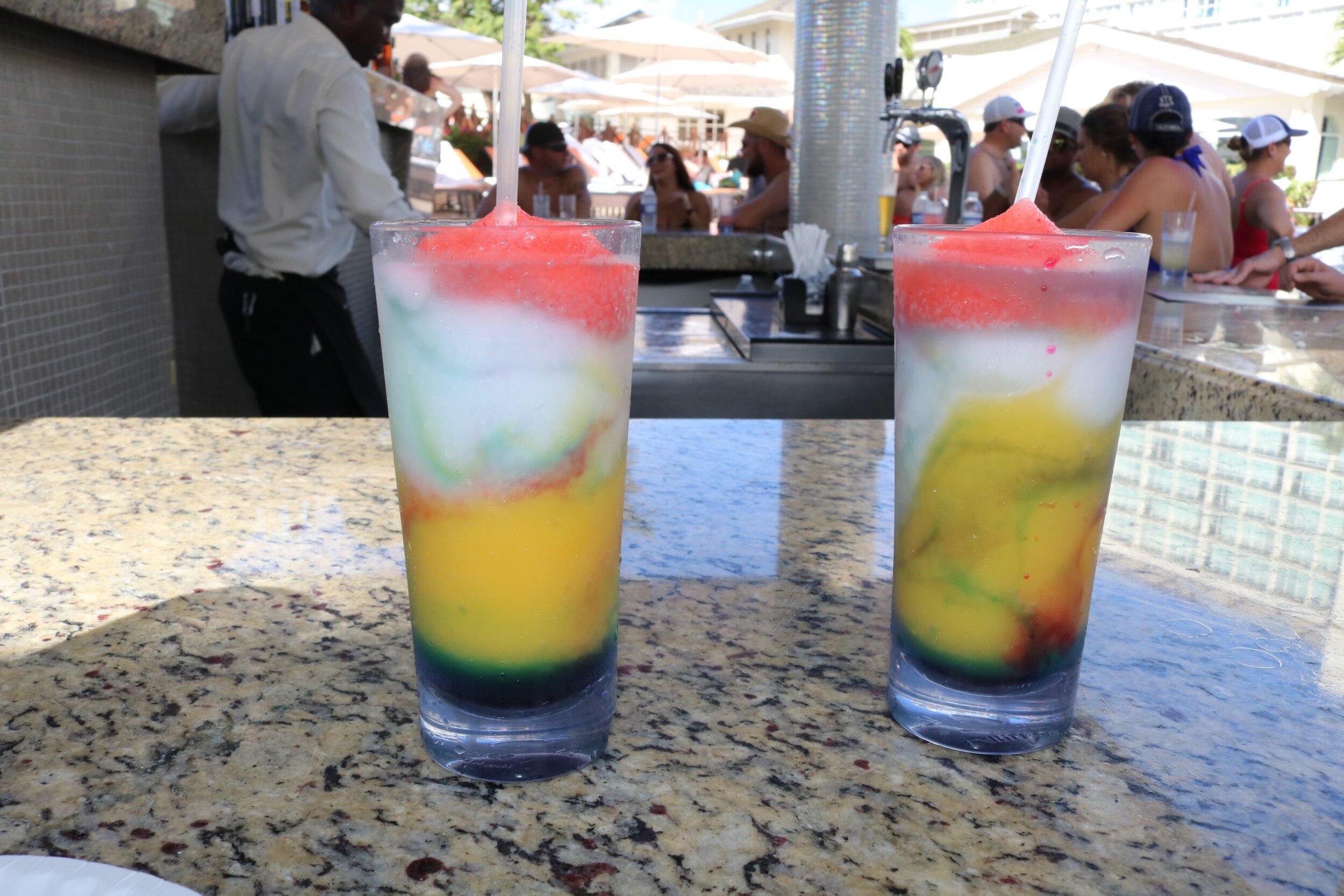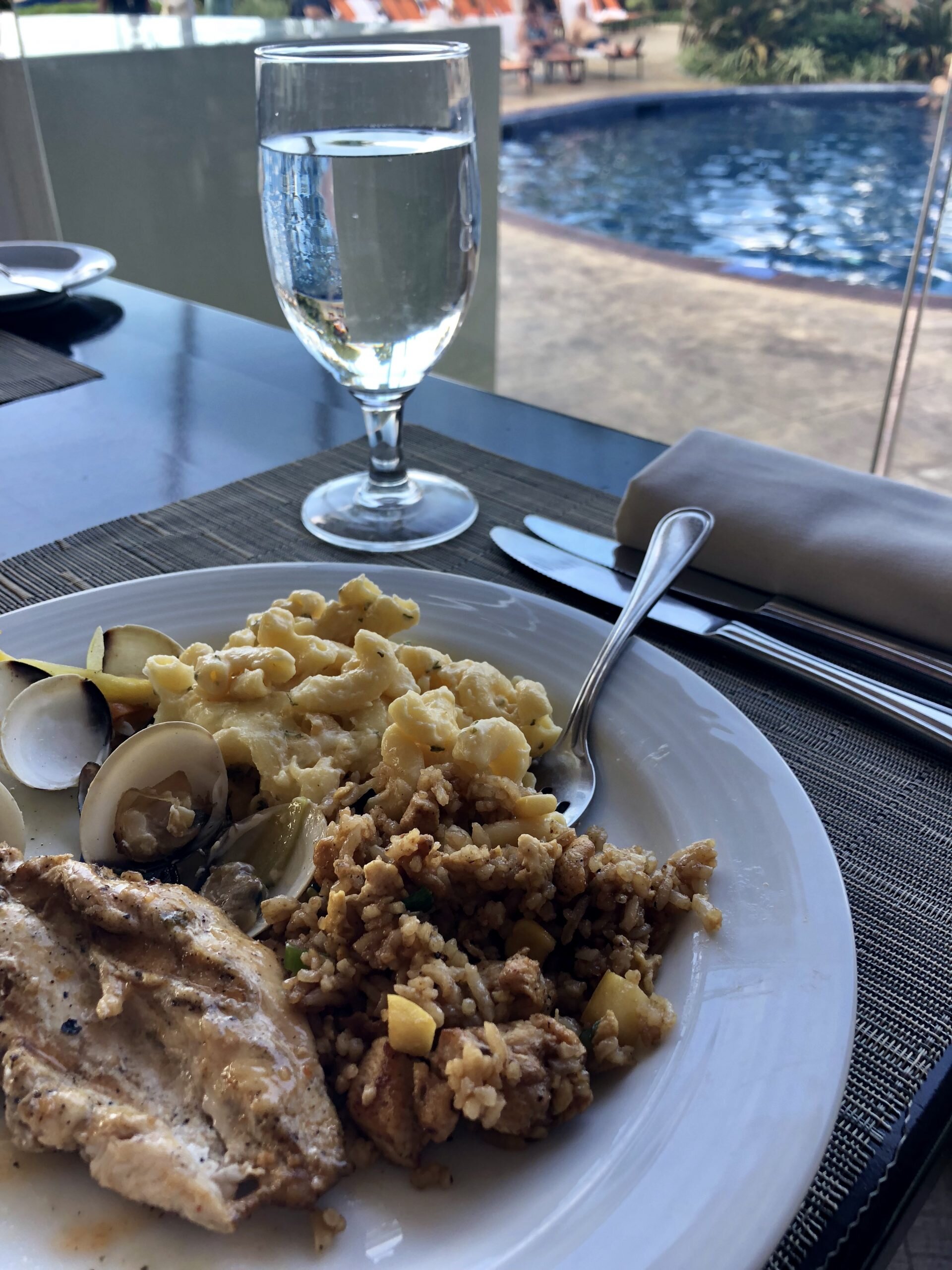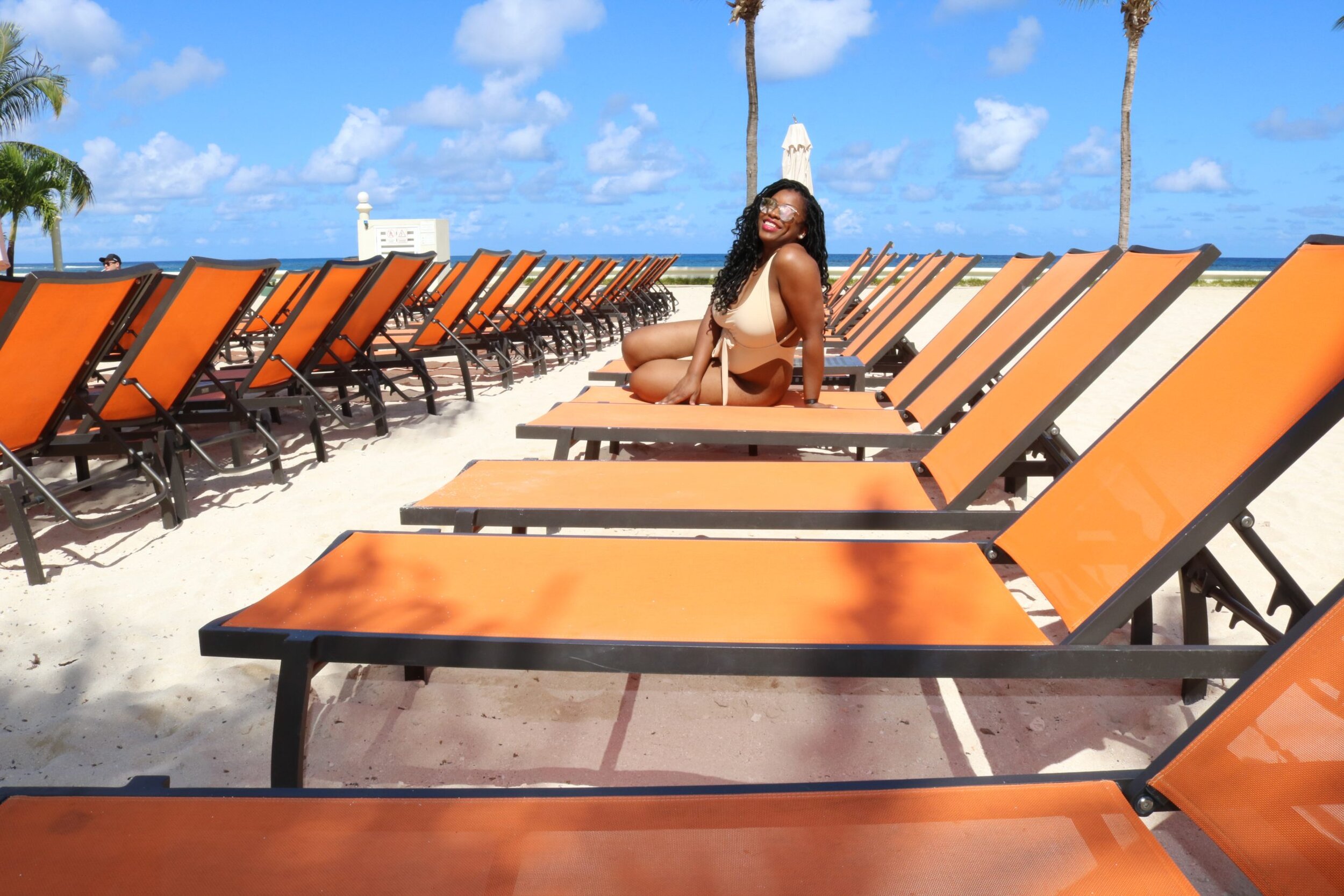 Fun
I had so much random fun with strangers. I celebrated my b-day by climbing Dunns River Falls early the second day. It was honestly one of the biggest adrenaline rushes ever but you know, my dad once told me I'm the world's bravest child. I'm fearless. I cannot wait until I can do it again! It was truly unforgettable.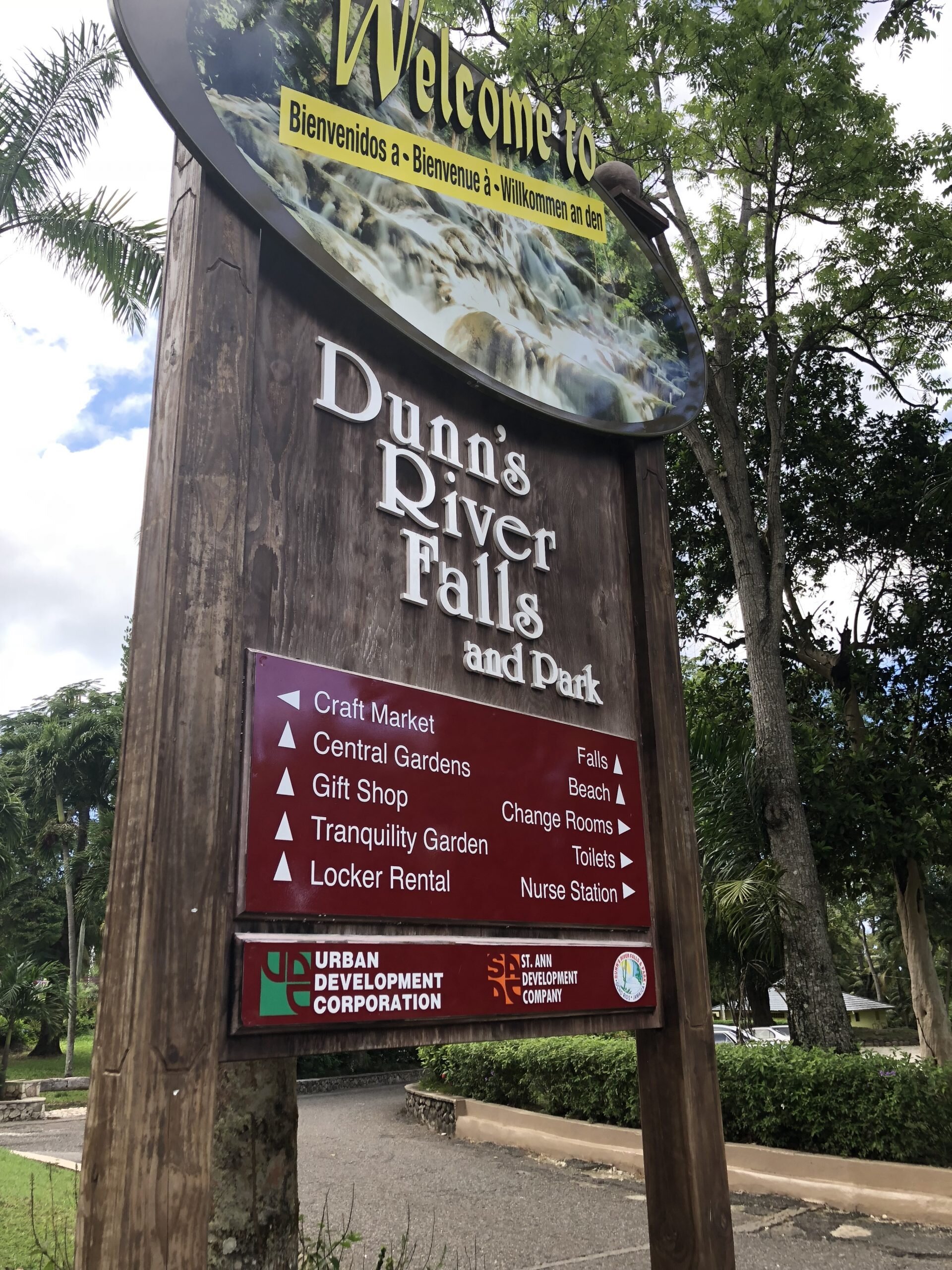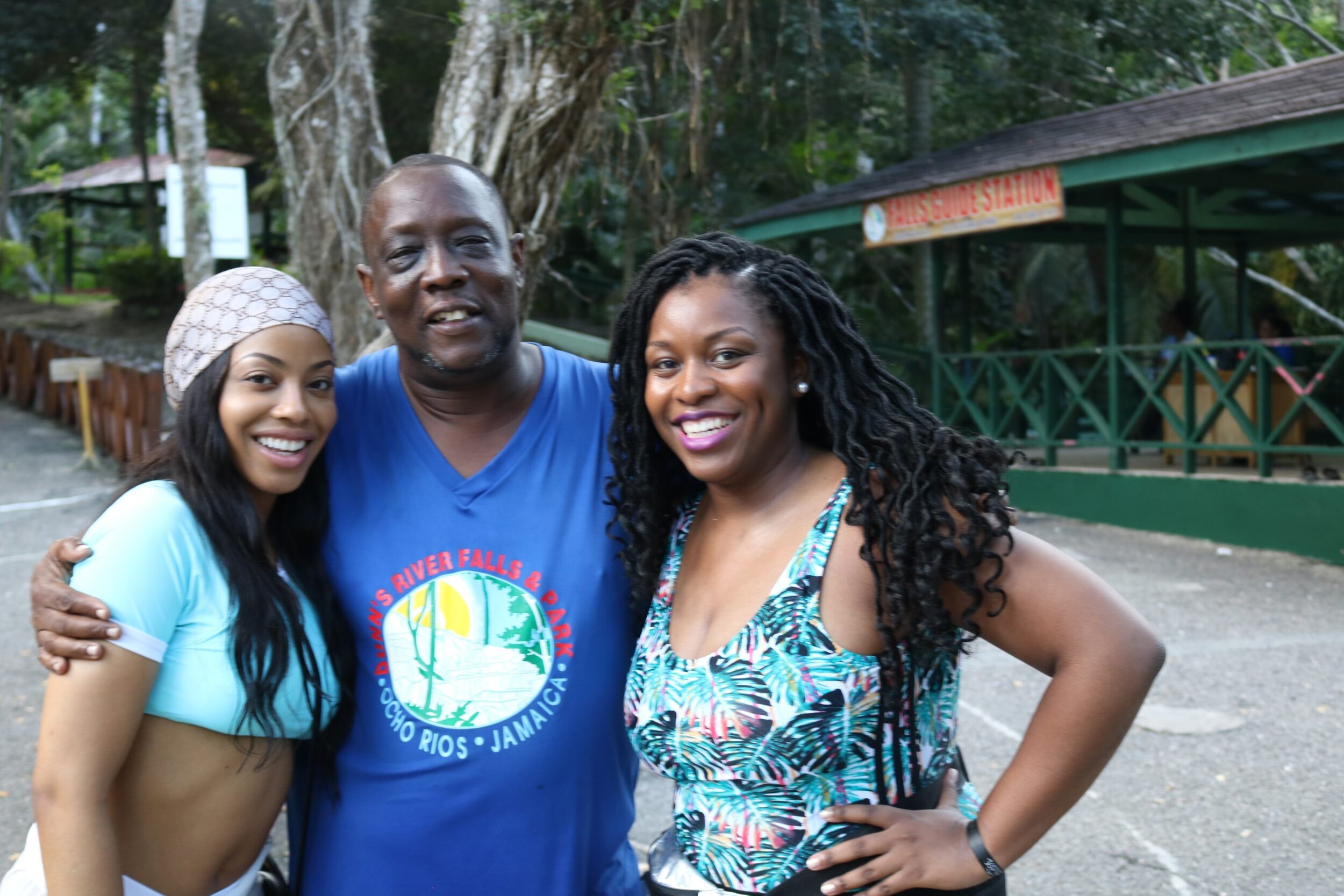 Activities Close By
By the third day, Christal and I were ready to look around the resort. There was so much to do so we did it! We went out sailing at the resort. It was cool being so close to the water you can reach out and touch it. I was nervous at first but our guy made us feel so comfortable. He was young and very happy with life! He totally embodied the Jamaican spirit of easy going. Most importantly he kept us safe!
We went out sailing and relaxed. It was so therapeutic being out there on the water.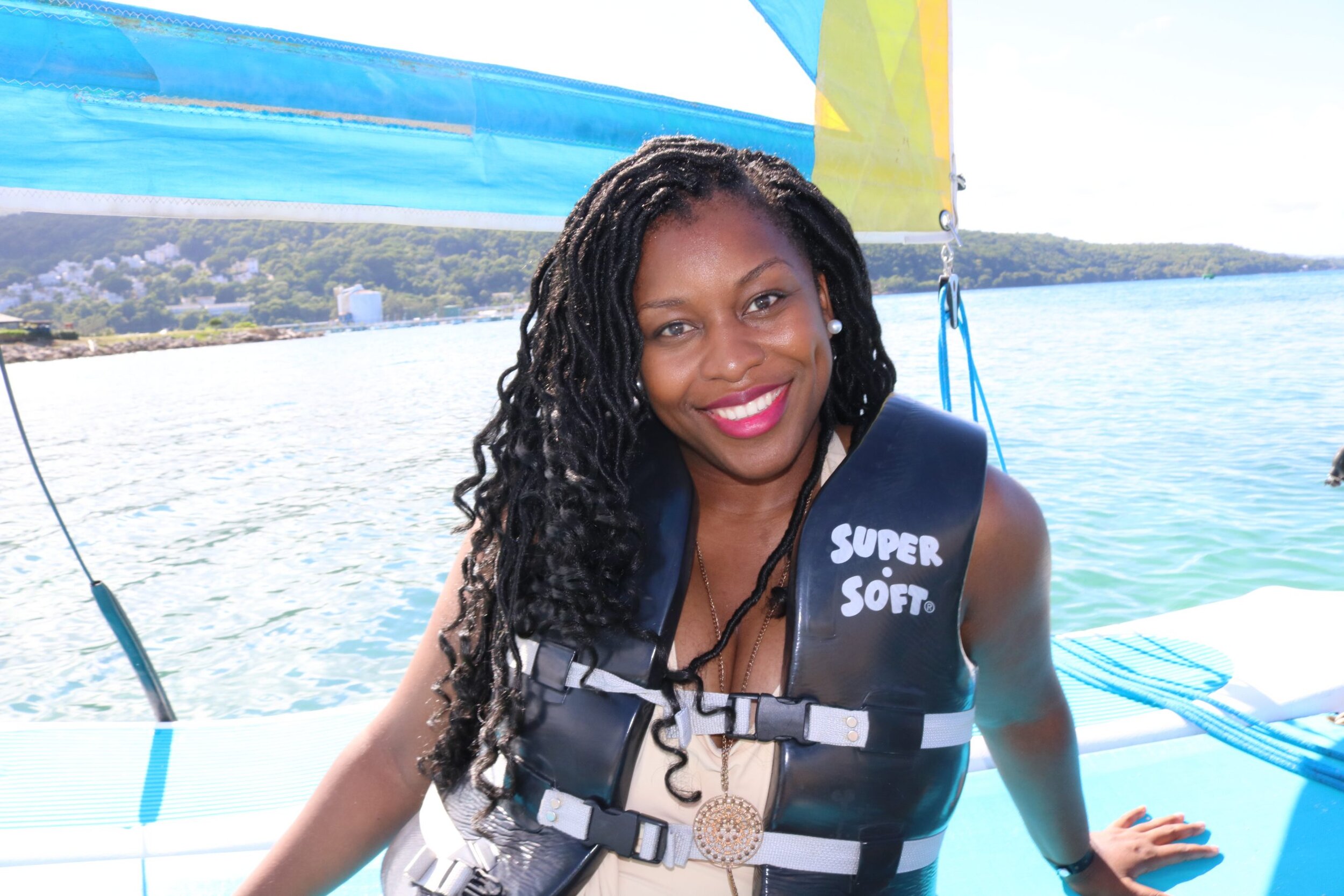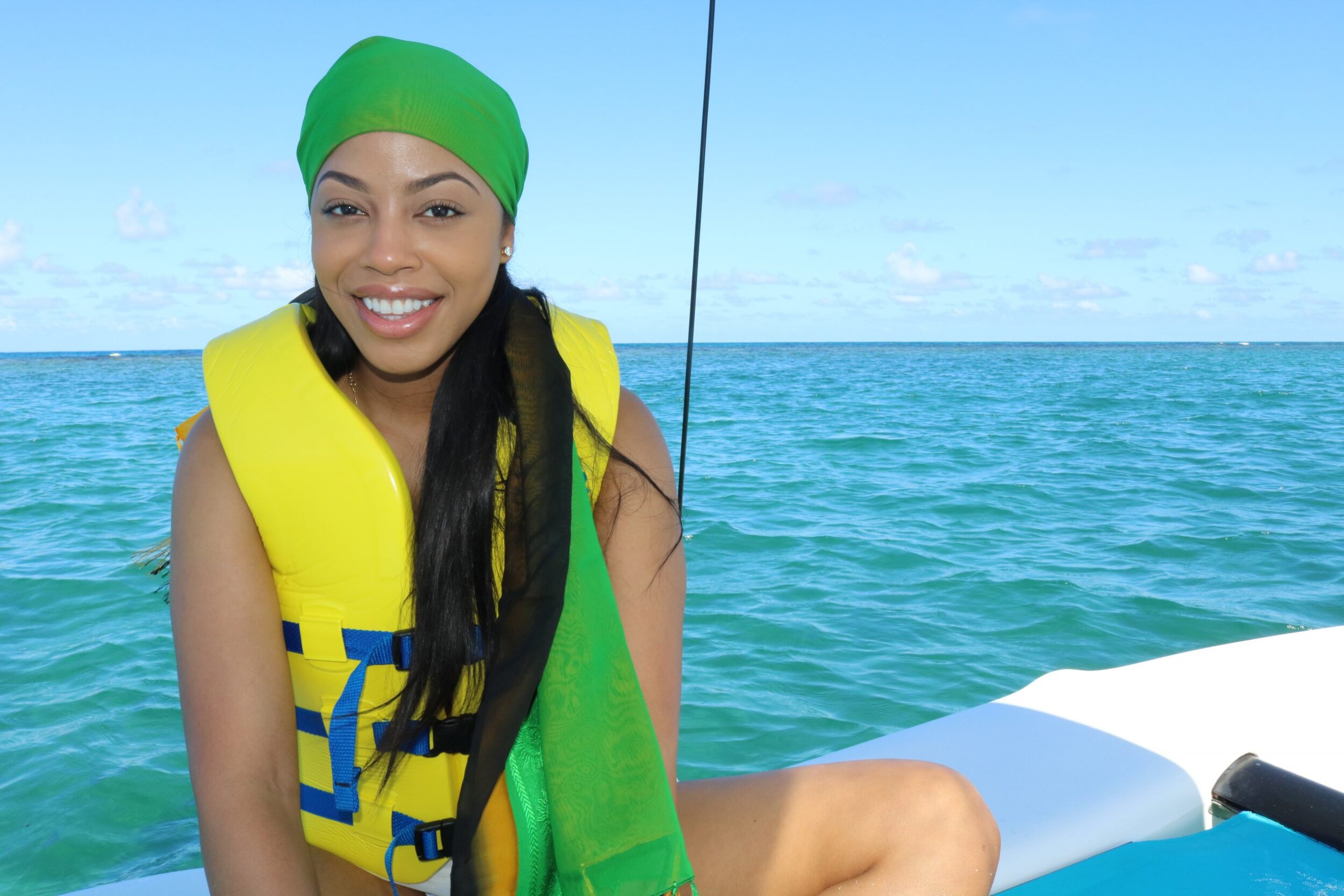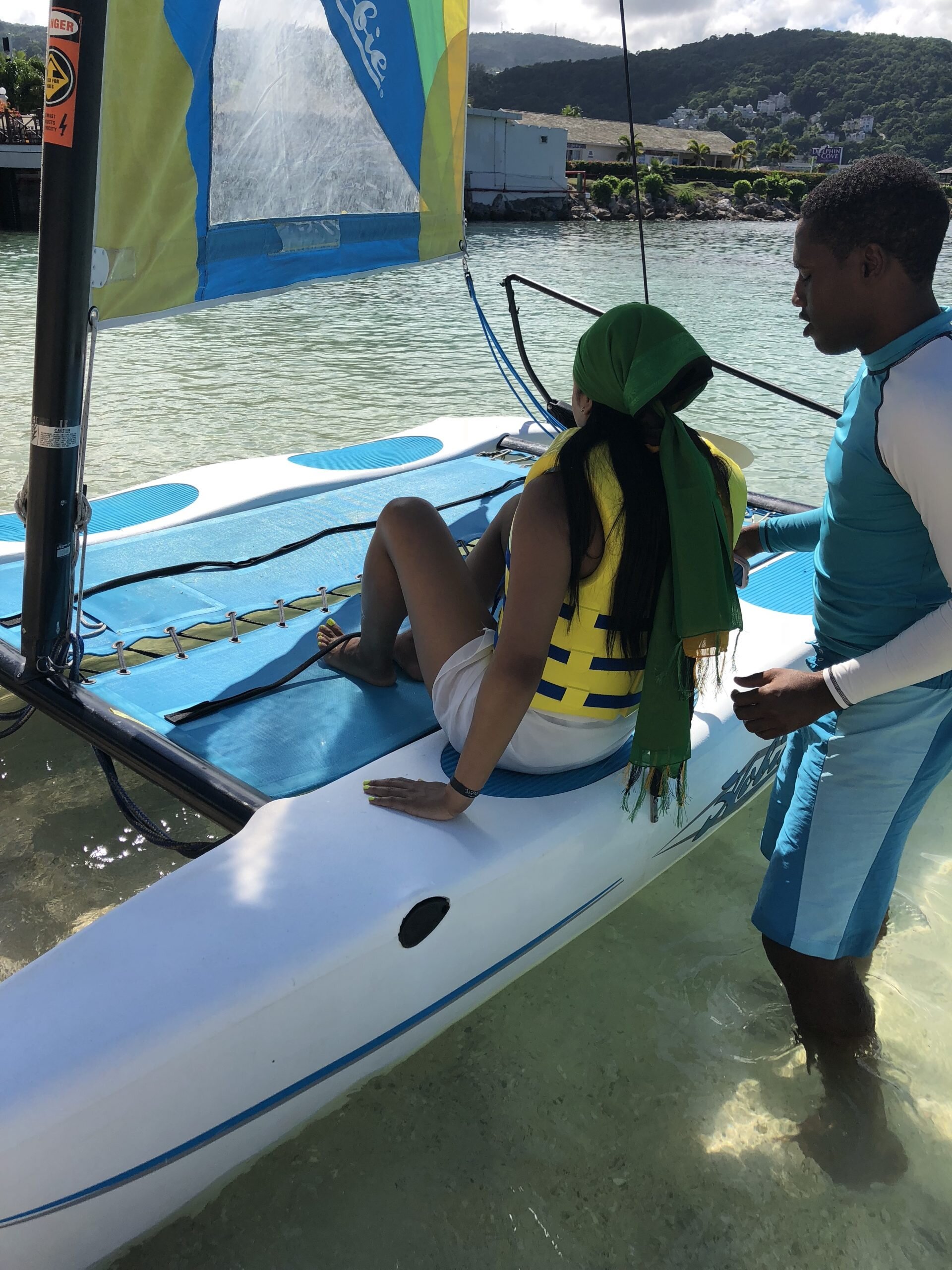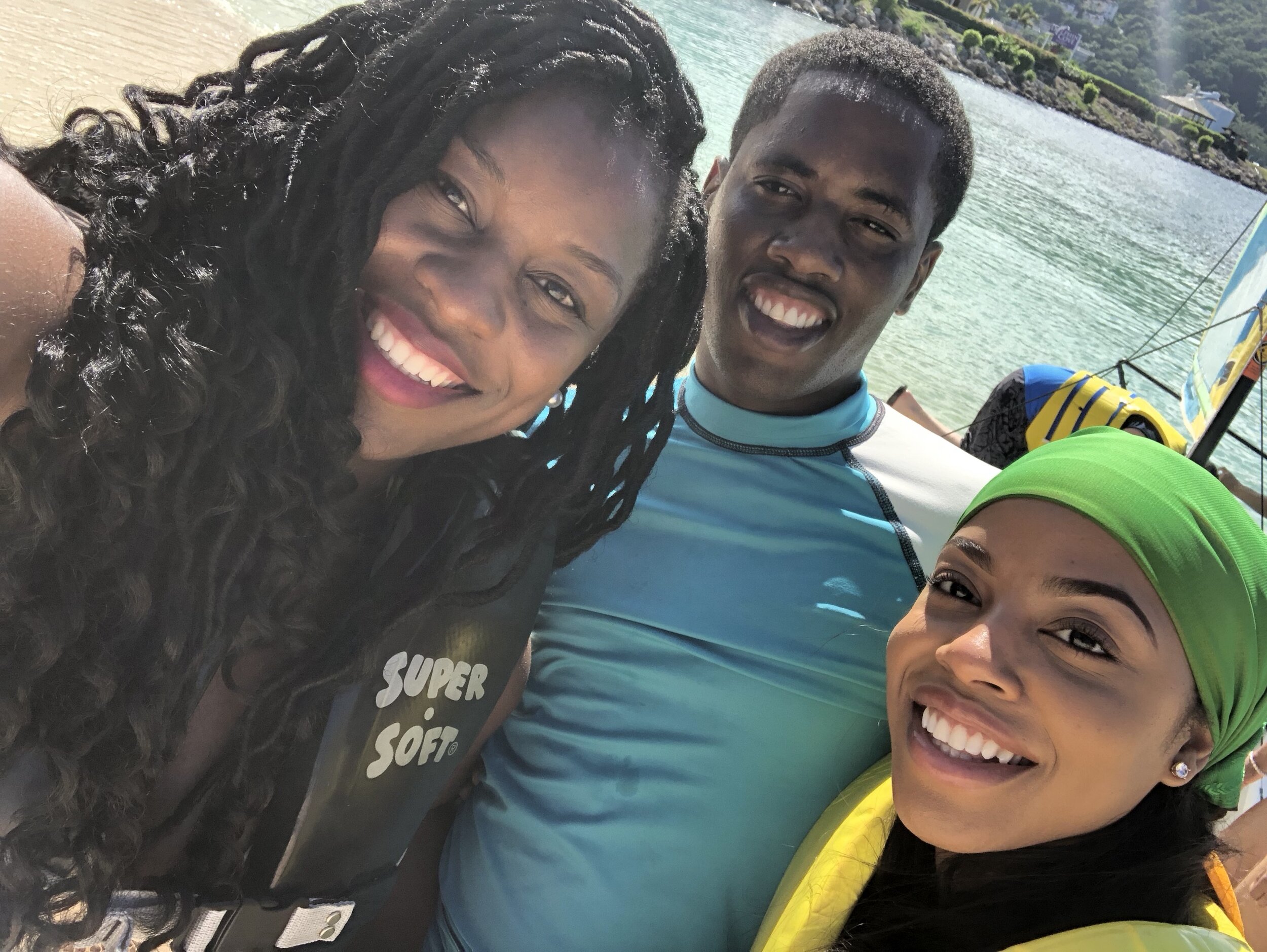 Restaurants
Back at the resort, we had several restaurants and I got a chance to try them all except for the seafood/steakhouse restaurant. I went to the hibachi restaurant, MoMo and it was delicious. I got the steak, shrimp, and chicken!
I got breakfast only one out of four days so I didn't get to try everything. Actually ordered room service for breakfast the only day that I got it. I would say out of all of the best food that I had at the resort it would definitely have to be the jerk chicken pizza! It was so good! The brown stew chicken and oxtails were also amazing! Because we were on the go we normally ate the buffet.
We did eat at the Italian restaurant. Additionally, they had a steakhouse and seafood which we missed. You can see clips of the food in the VLOG!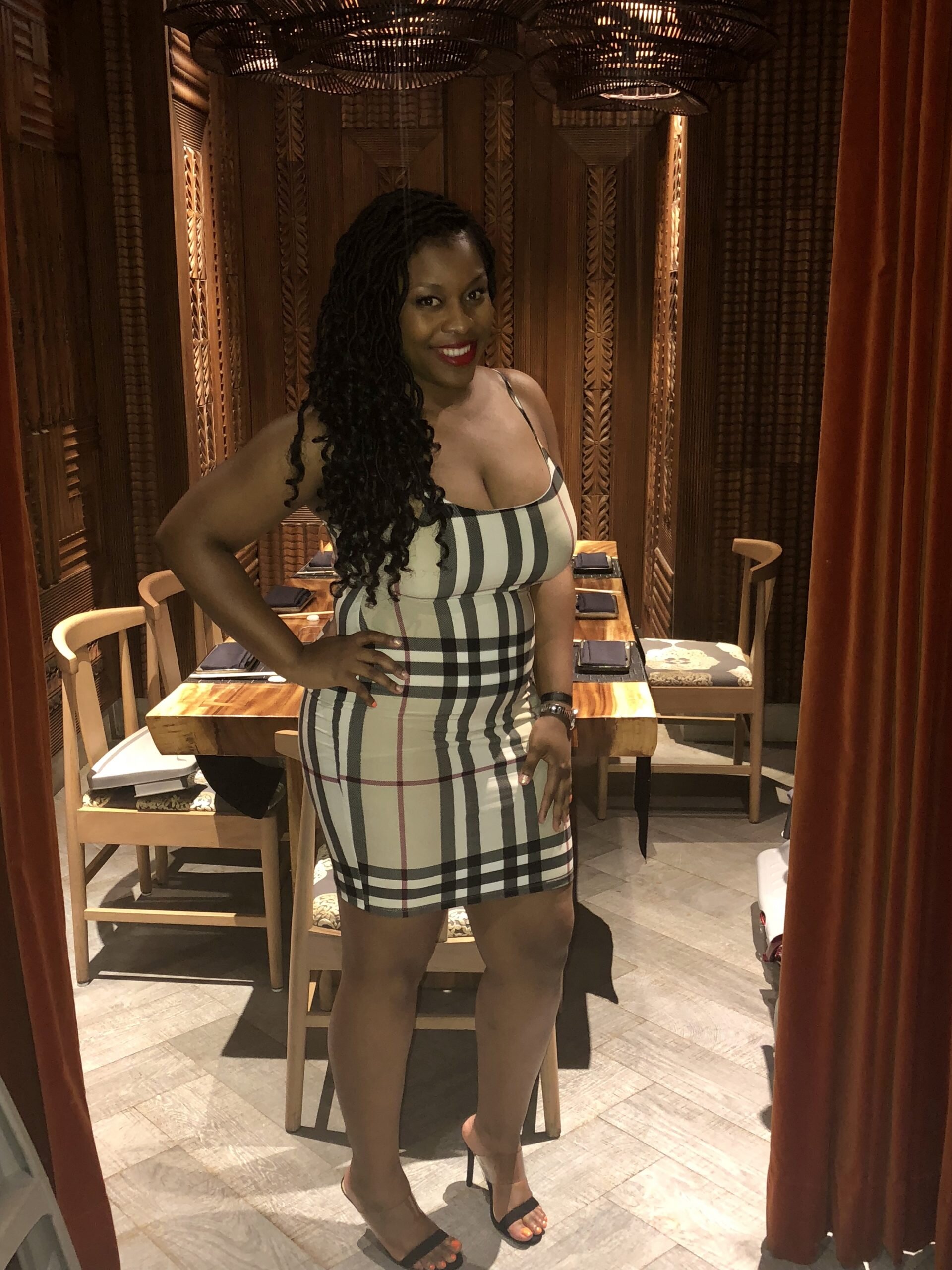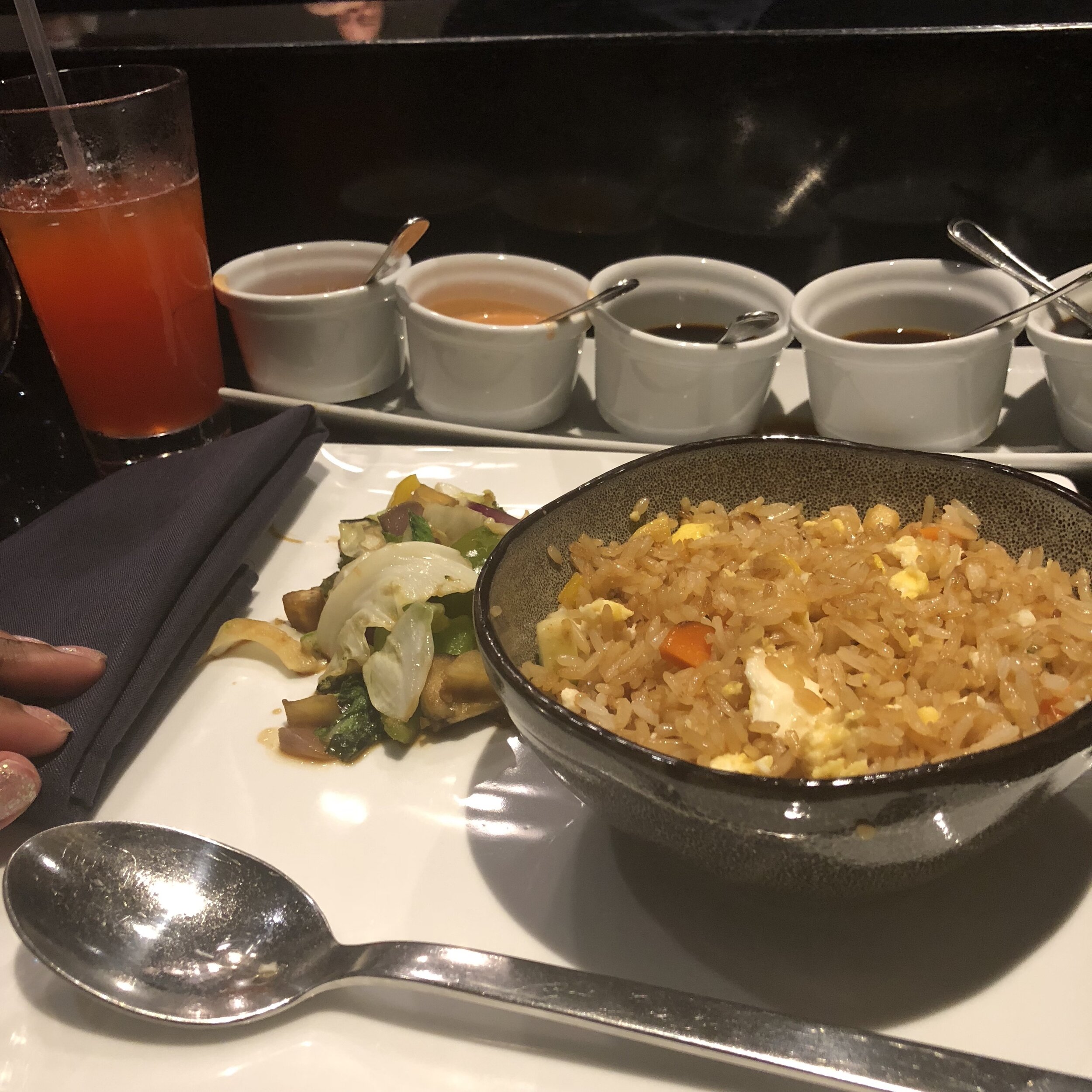 Spa
Finally, we spent our last day at the spa and got the hydrotherapy treatment. It put my body through every sense possible. If you want to do something for your mind body and spirit this is a MUST.Post-Spa Treatment. There is ONE thing I know for sure: Moon Palace Jamaica was a fun and relaxing stay!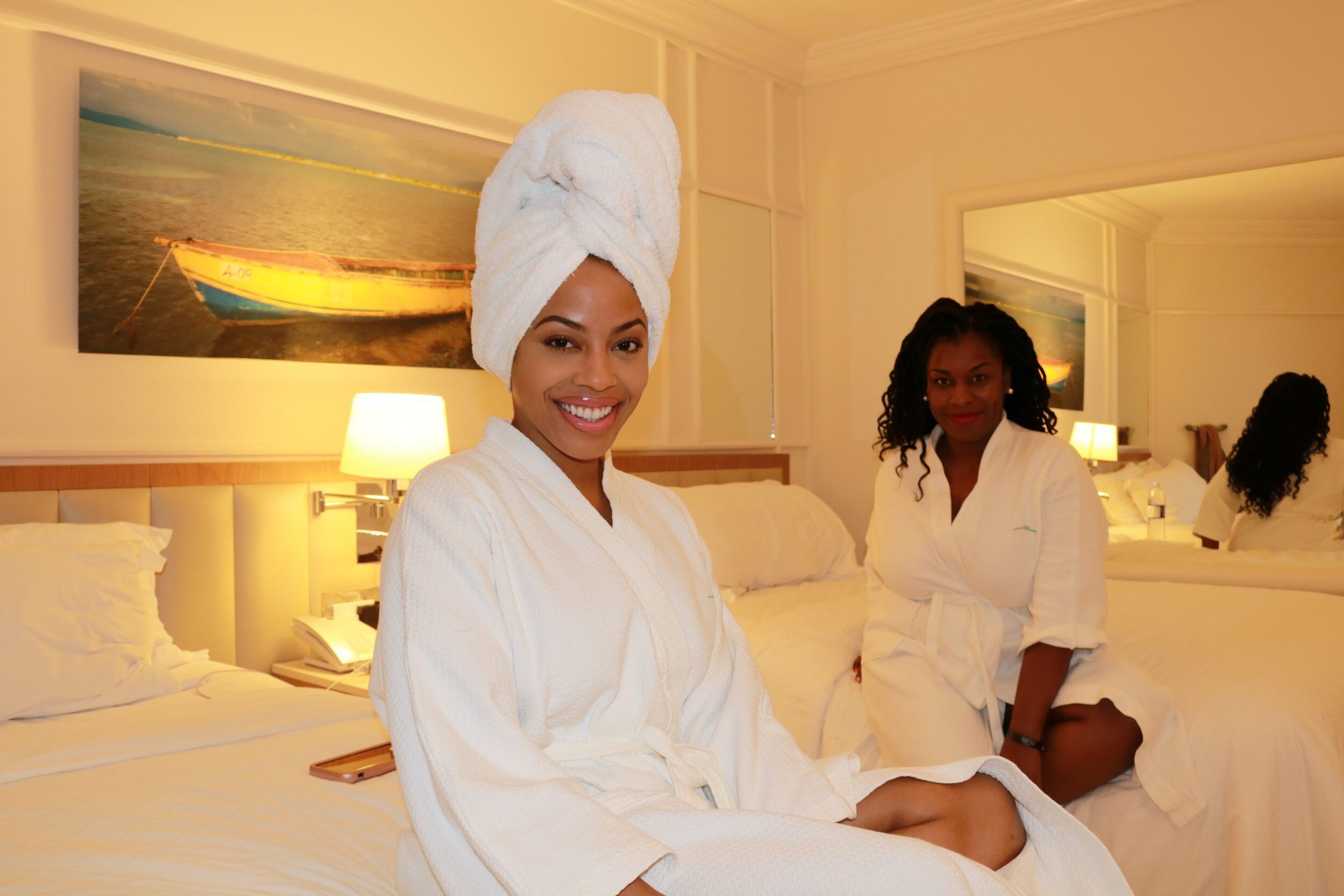 We packed our bags and headed out reluctantly. A few Jamaican beef and chicken patties later we were back at the airport dreaming of a place called Jamaica.
I did not want to leave and I just cannot wait to return…and feel alright!
Check out PART 1 and PART 2 of my adventure below! Watch it ALL so you don't miss the fun parts! Peace, love, and Jamaica!